When You Really Don't Have Time to Write
So you're still practicing that budgeting of writing time that we started in lesson three, right?  I know you're not, so don't bother telling me that you totally still write for 15 minutes a day.  I know you're a liar because I'm one too.
You will need to get back into writing at regular intervals once your summer travel or altered routine is over.  Slowly and steady work is better than writing spurts because it is difficult to jump in and out of a project.  If you complete a page daily, you could have 7 decent pages by the end of the week.  If you wait to write for three hours on a random Tuesday because you've finally made time, there is little chance that you're going to walk away with 7 decent pages because you're going to spending a chunk of that writing time just trying to remember where you wanted to take the story.  Believe me, I speak from experience.
But then there are times when you literally can't write.  Maybe your computer is broken, and it's the only medium where you can organize your thoughts so writing long-hand would be a waste of time.  Maybe you're out of town, and you're not going to spend your trip crouching in the hotel closet so you can write by yourself for fifteen minutes.  Maybe life is too damn busy to even give 15 minutes.  I've had a summer like that where I'm going to bed at 1 am, and the thought of staying up until 1:15 am just to check writing off the to do list feels like too much.  So I let it go.
And now all I do is think about how I'm not writing.
I think about it when I'm in the grocery store, and I think about it while I'm in the car, and I think about it when I finally have two hours to get something done but I choose to get ahead with other work before writing because I'm not currently facing a deadline.  And I feel enormously guilty about it in the same way that I feel guilty when I go days without exercising or days without practicing the guitar.  I feel like I'm getting out of shape, unlearning things, and now I'm going to have to play catch-up when I finally get back to writing again.
And while that's true — I will have to play catch-up and get back in a writing routine when life returns to normal — it isn't necessarily a terrible thing.  Taking a much needed break or concentrating on other things that need my attention is just as important as any writing project.  That sometimes you can't help it, but life gets in the way and makes it a terrible time to write but a wonderful time for something else.
Writing isn't a race where if I don't keep up, someone will pass me.  Writing a solitary activity that requires a certain amount of mental recharging along the way; sometimes just a stretch or a few hours, and other times, a few weeks between two projects.  That non-writing time is not non-productive time: you are always writing inside your head, dreaming up characters, noticing small details that you'll work into future writing, reading things that will influence the way you write.  It's all part of the larger package of writing, so even when you're not writing… you're sort of writing.
Sometimes I just need to write a lesson like this for me as much as it may also be for you.
Homework: If you're in the middle of a good writing routine, keep writing.  But if you're not and you're kicking yourself for not writing at the moment, take an idea collection day.  Go to a museum, read a book, watch a movie, people watch, go on a walk — in other words, do some non-writing writing.
Next week will be the 18th MFA Sunday School, and it seems like a good time to pause the class and ask if there are any questions, not just on things we've already covered, but thinking ahead to aspects of writing or publishing that we haven't reached yet where you have questions.  Please use the comment section below to post any writing or publishing related questions you have.
And a heads up — we're going to be starting an interactive query letter lesson soon.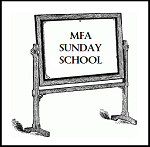 This was the 17th lesson for the MFA Sunday School, a once-a-week, free, online writing workshop. MFA Sunday School posts are uploaded on Sunday mornings, though you can read them or participate any time — the comment section is always open for people to post a link to their work or ask a question. You can subscribe to blog posts via the RSS feed, or look for them under the category heading "MFA Sunday School." If this is your first time in "class," you may want to jump back to the first post in the series in order to understand how things work, or peruse all of the past lessons as well as a glossary of terms by reading the MFA Sunday School Glossary and Course Archives.