So I've Been Sitting on Some News
A few weeks ago, I was approached by the Obama campaign to contribute blog posts for their new Parents for Obama site though I haven't said anything until now. It is a huge honour to get to share my thoughts on the upcoming election with the general American population, and the twins have been equally excited to get to contribute their story to the re-election campaign. We're an Obama family, and it is uber-important to me that we're volunteering as a family to get Obama re-elected.  Though, I will say that some days I can't tell if the ChickieNob is volunteering because she wants Obama re-elected or if she thinks that by attending things with me, she has a chance to one day be invited by Sasha or Malia to play on the White House swing set.
I am going to cross-post most of my election posts here for posterity (which is a fancy way of saying that I'm really afraid that I'll one day forget things if I don't slip them into our written record), but you can read them on the Obama site too. Regardless of your politics, I hope you'll find the posts meaningful or funny since creating a politically-conscious child crosses all party lines.
So… enjoy!
Why I Take My Children to Vote
The first time I ever voted was in my first grade Weekly Reader, a 4-page mini newspaper that was distributed in public schools in my state. President Carter was up against Ronald Reagan, and I took the casting of my vote very very seriously; so seriously that I remember going around to ask adults why in the world anyone would not vote for someone who had been a peanut farmer. I literally couldn't fathom a world where actor trumped peanut farmer, and I just wanted to check that I wasn't missing something before I took my pencil and put a big X in the box next to President Carter's name. He won in our class by a landslide.
I grew up in the Washington, D.C. area, a highly-politicized area where friend's parents worked in government and classmates came and went as administrations turned over. Discussion of political issues was commonplace; we lived in the nucleus of the American political cell, the ideas of the time written into our DNA. My parents explained the main issues in child-friendly terms, and I was always aware of their political beliefs while they left me room to develop my own.
And then I had my twins.
The first time I took my twins to vote, they were a few months old. Both were on heart monitors that could be carried over my shoulder like a large plastic (albeit very expensive) handbag. I popped them in my Maximom, a twin baby carrier, so I could walk down to the local elementary school to vote in the Kerry/Bush election. I looked like an opossum carrying my young, gathering like-minded politicians who would represent my ideals in Washington instead of acorns, but I really didn't care if I could barely see over their bald heads to cast my vote or that we were eliciting many strange stares at our get-up. I felt like I was honouring my parents, honouring all the work they did to raise a politically aware and socially active daughter, when I took my children with me to vote.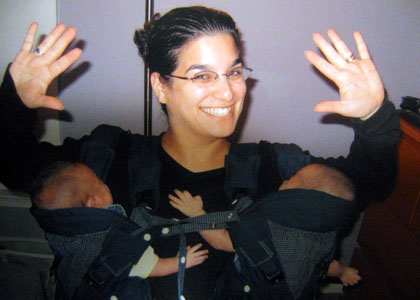 My husband and I have carried on the work our parents instilled in us by talking about the issues in age-appropriate ways with the twins. They knew exactly what was at stake with the last election, how much this country needed change. I almost considered getting babysitting for them when I heard about the unusually long lines at our polling place, but they promised to behave, and mostly did except for the moments when they swung their four-year-old bodies from the stairway railing and then climbed up to a landing to call out to the crowd as if they were emcees pumping up the crowd before an event: "Mommy is an Obama Mama Mama Mama!  Are you an Obama Mama Mama Mama?"
When we went into our voting booth, I held each of them up so they could vote. One child touched the box next to Barack Obama's name, and then I set them down and erased the vote to prepare the screen for their twin. My second child touched the box, and I set them down, erasing the screen a final time so that I could vote too. And I started crying as we all hit submit together because this was living history. My children will be able to tell their children that they voted for Barack Obama in the first election, that they brought that change to this country.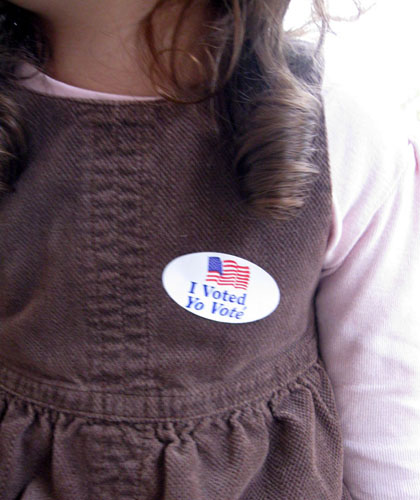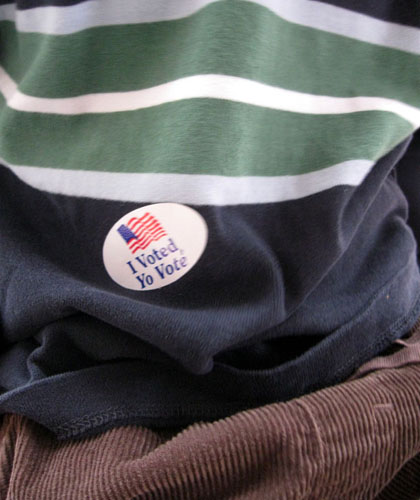 And they got it, they understood how much change could come from a presidential election. They stayed up and watched election coverage with us that night, and when Barack Obama became the President Elect, we went into their room and whispered the news into their sleep-warm ears. I picked them up early from preschool to watch the inauguration on television, jumping up and down on my bed when he was sworn in as president. We shared that celebratory moment as a family.
And now we're sharing the re-election work as a family. Our twins know that their parents are volunteering to get President Obama re-elected, and they've said they want to help out too. They want to write about the election, go door-to-door canvasing, and attend rallies. We talk about marriage equality, health care coverage, and electoral law. Instilling a sense of social action in my children is one of the most important lessons I can convey because it extends beyond the election to teaching them how to be a self-advocate, how to be empathetic and aid others, to find what they care about and make change in this world.
This election is not just about this election when it comes to our children; it's about taking to heart the First Lady's It Takes One campaign and understand that it is our job to build the next socially-conscious generation, that we raise a group of people in this country who answer every issue with an "I care" instead of a shrug. When we take on the job of parent, we take on all the responsibilities that come with parenthood including raising our children to contribute to society.
And all of that starts with empowering our children to understand they can be part of this vote.