BlogHer '12 Wrap Up: the Good, the Bad, and the Unbecoming
Oh BlogHer '12, you are over.  The suitcase is unpacked, the Martha Stewart notebooks have been disseminated, and I am ready to sit down and organize how I felt about this year's conference which was — for me — tied for first place with my other favourite BlogHer conference, good old 2008.  Shall we unpack the good, the bad, and the… well… not necessarily ugly but certainly not the most becoming behaviour.
The conference kicked off with an opening keynote from the President of the United States.  His face smiled down at us from live feed screens while Elisa Camahort Page and Lisa Stone sat below. (Jory Des Jardins couldn't make the conference this year because she was 36 weeks pregnant.)  Not a bad way to kick off a conference, you know, with a talk from POTUS.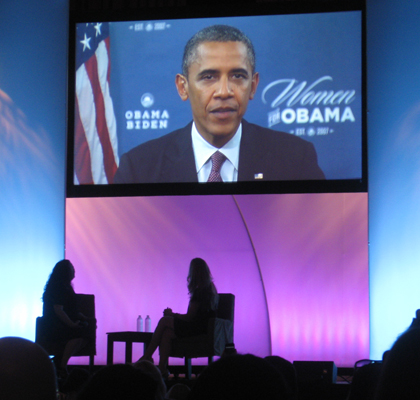 That night I went out to the dinner at the Heartland Brewery with a slew of ALI bloggers: Half Baked Life, Too Many Fish to Fry, A Blanket 2 Keep, Dragondreamer's Lair, Write Mind Open Heart, Bereaved and Blessed, the Rumour Mill, and the Kir Corner.  Dinner can be abbreviated as food, fantastic conversation, the largest cockroach in the world, and a thwarted walk down to Magnolia bakery to get cupcakes.  Seriously, you have never seen someone cajole and charm like Kathy, and they STILL wouldn't open the damn door and sell us one red velvet bite.
Over the next few days, I went to panels and keynotes.  Favourite session (beyond my own) was on pitching to media; in other words, tips for getting freelance article jobs.  Really really helpful advice that I will type up this week and post for everyone to read.  Favourite keynote had to be Katie Couric.  I am not a television fan, but seeing her speak live convinced me to watch the Katie Show when it starts airing in September.  She was very down-to-earth, realistic, and frank.  I loved the point she made on how she can't comment on the infamous Slaughter article because she isn't the average American woman; that her ability to have it all is couched in the fact that she can afford to hire live-in help.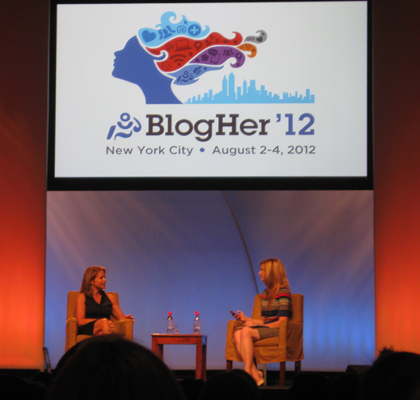 VOTY (Voices of the Year) was amazing, as always.  I laughed hysterically at some posts.  I cried with Kathy over others, especially one where a mother tries to explain a friend's imminent death to her child who wants to help so badly and can't understand how none of his ideas could stop death from occurring (oh my G-d — I just felt my throat close up just thinking about this post).  I did a run through of the sponsor room to thank the sponsors for bringing down the cost of the event.  I skipped over brands that I already knew (they didn't seem to need my presence either) and went for the unknowns, which is how I found out about Zamzee and the very nice guys working the booth gave me some to try out.  You wear it all day and then plug it into the computer before bed, and it measures your movement for the day.  I cannot even explain how much this feeds into my deep need to record everything at the moment.  The twins are loving the ones I gave them, and they are already plotting out ways to move more ("I will just jump up and down in place while you make me my yogurt in the morning!").  And I listen to their plans and then make my own to MOVE MORE than them, just to prove my superior healthy habits.
*******
BlogHer was huge this year — about 5000 people when all was said and done.  It created a strange phenomenon: it was impossible to walk anywhere without bumping into someone you know (or, at the very least, recognize), but it was too big to actually find specific people, even if you were both in the same room.  I never found Eden at all (Eden?  Eden?)  There were plenty of people that I only saw briefly in passing (Jodifur and Magpie pop to mind).  Sue and I got to grab a whole 10 minutes before we realized that it would be easier to go on an IKEA run when we got home with 6 kids than it would to try to find each other again at BlogHer. (Though how sad is it that I invited myself along on Sue's IKEA run, trying to convince her that I can be her little helpful shadow as she buys plates?)
And yet, there were people I got to see a lot on the trip, people who were very hard to say goodbye to as we each went back home.  Too Many Fish to Fry left at the very end of the conference to catch a plane back home.  Half Baked Life stayed as late as she could, curled up on one of the lobby chairs while we talked, promising that we would drive at each other soon.  Bereaved and Blessed finally slipped upstairs with her sister after we had shared our neurotic travel stories and high school tales.
And then, I finally had to say goodbye to Write Mind Open Heart at the end of a final breakfast the next morning, after I lingered in her room while she packed, unable to go upstairs and throw my own possessions in a suitcase because that would mean the trip was really really over.  It is so hard to have your friends scattered across the country.  I am so grateful that we were able to all come together at this conference and have the face-to-face time.  I love all of you through the keyboard, but it can't erase the need for those times when we can actually sit across from one another, touch each other, hand each other tissues.  That good overwrites any of the bad that comes from a conference this size: difficult to navigate hotel, long lines, and problems with meals.  You care less about an elevator wait if you're standing there with someone you are so grateful to be able to grab time with regardless of what you're doing.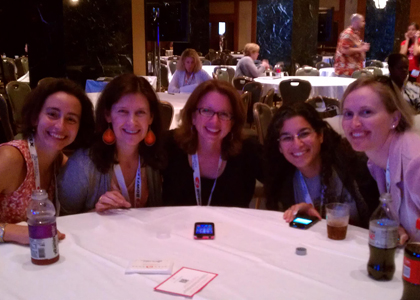 There was an audio recording made of the session, but I unfortunately can't upload it because people said very personal things during the session, and I realized that I didn't feel comfortable making those private moments public.  But I will try to edit a version this week that gives you just the panelists' portion of the talk.
I have not yet gotten to the unbecoming, but I think I will unfold it in my next post.  Stay tuned.