Supreme Court, Affordable Care Act, and Infertility
While the Supreme Court discussed the fate of the Affordable Care Act, the White House continued the work of implementing the law, knowing that to pause to wait for the ruling would mean losing out on precious minutes for keeping to the timeline that runs until 2014 when the entire law comes to fruition.  The Department of Health and Human Services, headed by Secretary Kathleen Sebelius, held a Women's Health Town Hall at the White House last Thursday, bringing together about one hundred people in the building (and many more online) to discuss the state of health care in America.  And when I say, "bringing together about one hundred people," what I really mean is that they brought together about one hundred women.
In other words, the group brought together to discuss the state of women's health in our country was comprised almost entirely of women.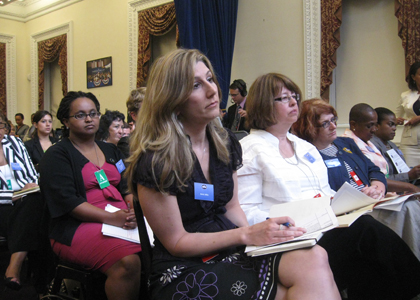 If there had been a town hall for men's health care (which would have just been called… health care town hall), I have a feeling the room would have been a little more mixed.  Of course BlogHer would have sent a woman to cover it — we're a women's online site — but what reason does every other media outlet and health organization have for sending a woman?  Because only women are interested in women's health?  That if we're going to be discussing women's bodies, only women are interested in discussing them? (Except for the times when men want to make laws concerning our bodies; they seem happy to talk about my uterus then.)  The panel was 100% female, the room was almost 100% female.
It was just a lot of women talking about the state of health care for women.  And while men are always around when they want to put limits on women's health care coverage or limit what women can do with their bodies, here they were quite plainly absent.  Where were the men?
No, seriously, where were the freakin' men?
Our health certainly affects men.  The financial side of our health care certainly affects the men in our lives.  If we don't take preventative measures to protect our health, our illnesses certainly affect the men in our lives.  If we stay out of the work force because we don't have adequate support in balancing work and parenting, or if we lose work time due to health issues, it certainly affects men.  So it was incredibly distracting, and frankly, disheartening, to see the room entirely filled with women.
Because women's health affects everyone, just as men's health affects everyone, and we need to start looking at health care as health care instead of looking at women as a separate entity from humankind who should be subjected to different rules and regulations.
Men, show up when we're discussing keeping us well and not just when we're discussing holding us back.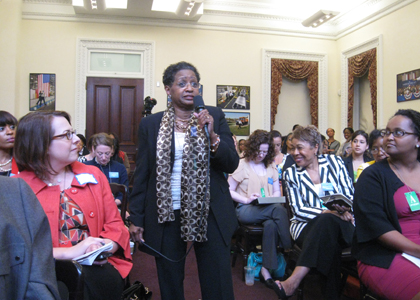 That said, it cemented in my mind something that has always bothered me about lobbying and infertility — or, for that matter, public opinion and infertility.  The people who care about infertility are those who are directly affected by infertility.  It doesn't matter that such a large percentage of the population is affected by infertility (12.5% of child-bearing age) that there is a good chance that someone you care about is affected by the disease, in the same way that men are obviously affected indirectly by the health of women, even if they're not directly affected themselves.  People don't show up, don't listen, and don't care if it's not about them.  I found that attitude sometimes in the lawmakers I met on the Hill when I went for Advocacy Day.  And that's also the attitude I see every day in the world — either you're affected by infertility and then of course you show up to talk about it.  Or you're not affected by infertility and the idea of actually pausing to talk about infertility and learn about it is practically self-verboten.  People almost don't want to learn about what affects anyone else, as if we pride ourselves on remaining unknowledgeable.  At least, that's my take-away from the comment section of the New York Times.
I don't expect non-infertile people to step up to do the education, but I expect them to show up and listen, especially when they voice their opinion so loudly on infertility issues.  In the same way that I don't expect men to step up and educate the public on women's health, but I expect them to show up and listen when we speak, especially when they voice their opinions so loudly when it comes to covering contraception and abortion rights.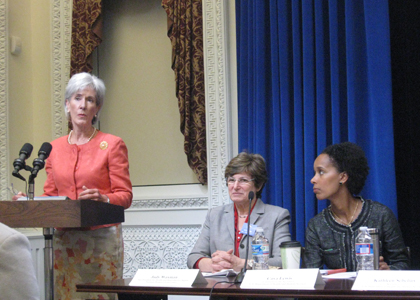 Towards the end of the meeting, I asked Sebelius what could be saved from the law if the Supreme Court overturned it?  What strides forward would still be in place, and what would be lost?  And the answer was all of it.  All of it.  I repeat that because I don't think people truly understand what that means in terms of practical life.  You know how your workplace has to legally give you a place and the time to pump breast milk?  If it's overturned, they won't.  You know how one million women who were denied health insurance prior to this point due to a preexisting condition were able to get health insurance because it became illegal to deny coverage to someone for a preexisting condition?  They will lose their insurance, and you will go back to picking up the cost for their health care usage (since part of medical billing covers the fact that some people won't pay).  People who made decisions based on the fact that there was a removal of a lifetime insurance cap will now be screwed because all those medical charges will once again count towards that lifetime cap.
And, again, this made me think about the way it's one step forward two steps back when it comes to popular opinion on infertility and the media.  We work so hard to convince those around us the reality of infertility and loss, and then a story such as Octomom comes out or an expose on surrogacy, and it feels like we're not only starting over from scratch, but we're actually farther behind from where we began because we thought we were getting somewhere.
This isn't a post about politics; this is a post about humanity.  About people showing up to discuss women's health, as opposed to only women showing a vested interest in our well-being.  This is about the media educating rather than trying to drum up a sensational story to sell issues.  This is about asking others not to undo the hard work we do in creating change.  This is a post about giving a fuck, even when you're in a position where you technically don't have to give a fuck.  Because today your situation looks like this; but tomorrow may look very different.  And when we only listen, when we only care, when we only pause to hear someone out when we're directly affected, we can't complain in the future when we find ourselves in a situation we never thought we'd find ourselves in and no one cares about us.
Go out today and care about someone else's issues.  Listen to them even if you don't have to.  Not because you're going to get anything out of it yourself, but because understanding is what separates us from other animals.
Makes us human.
*******
If you want to watch the town hall, it was livestreamed on the White House site, and they uploaded it to their channel on YouTube.  I asked my question around 1:22:50.