Human Harbour
A few weeks ago, the Wolvog was playing catcher and he got a bit banged up.  It's normally one of his favourite positions, but the ball was being thrown fast and hard, and a few times, he turned his body and ended up getting hit.  He left the game bruised, but seemed fine emotionally.  We had a good talk as we walked to the car that the worst had happened — he had been hit by the ball — and he survived.  Fears Be Gone.
He's a great fielder, so the coach normally places him at base, especially since we're now in the championship games and he can use each child in their best position twice in one game.  In the last game, the Wolvog was also set to play catcher again.  He donned the gear and stepped to home plate and crouched into position, but when the first ball was thrown, instead of staying down and catching it, he popped up and away from the ball.  The coach reminded him to stay down, and another pitch was thrown, and again, he jumped out of the way.
It was so hard to watch because he was obviously terrified.  I heard him telling one of the assistant coaches that he couldn't do it, he was too scared.  And that man crouched down over the Wolvog, becoming a human harbour for his body, and he gently talked him through each pitch, making sure he knew he was protected while also encouraging him to catch the ball.  That man remained crouched over the Wolvog for the entire inning, giving him the ability to play the position and feel safe.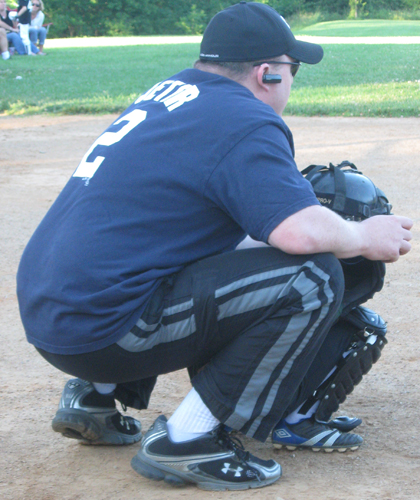 I'm not sure if I was more touched that an adult did that for my son — saw him terrified and made sure that he felt safe so the Wolvog could play his position — or if it was more seeing my son overcome all the fears that rushed back at him when he found himself crouching at home plate again.
His team won the game, rallying when they were six runs down.  Because of coaches like that.
Has someone ever created a human harbour for you — either in actuality or figuratively — so you had the emotional strength to do what you needed to do?