384th Friday Blog Roundup
On Wednesday, I tweeted that I wished it were socially acceptable to sing aloud in the food store.  I had just found myself in the bean aisle, passionately crooning to the pintos about how "ever since [they] went away I've had this sentimental inclination not to change a single thing."  The beans did not respond to my Paul McCartneyisms, but a fellow shopper looked at me in disgust.  What she doesn't know is that I lack the reflexive impulse to stop myself from singing along when certain songs come on over the store's loudspeaker.  These songs include (but are not limited to):
"My Brave Face" by Paul McCartney
"Let the River Run" by Carly Simon
"America" by Neil Diamond
And G-d help us all if "We Are the World" starts playing.  I not only have to sing along, but I have to sing along mimicking everyone's voice.  And it doesn't end there.  When Cyndi Lauper comes on, I have to raise my right hand into the air, close my eyes, and do the open-handed fist pump-like movement she often brought to her performances.  And it's like an illness — once I hear "We Are the World" in the store, I need to KEEP SINGING IT, DOING ALL THE VOICES, FOR THE REST OF THE DAY.  And maybe even a little bit of tomorrow.
The exact same thing happens in winter when I hear "Do They Know it's Christmas Time at All."  I curse group song projects.
But it gets worse.
There are certain songs that I can't not sing and I can't not cry while I sing.  Such as the Police's "Wrapped Around Your Finger." (Please, tell me how you stay dry-eyed thinking about Freud's mentorship of Jung?)  The entire score of Les Miserables.  John Lennon's "Beautiful Boy."  And if anything by Michael Jackson comes on, I have an overwhelming need to tell people around me how I used to have a Michael Jackson folder back when I was in school.  It was that fantastic picture of him in a pale yellow sweater vest, leaning on the wall.  And once I say that, I have to tell the person how I went to the Michael Jackson concert, and my mother let my sister and I make one white glove covered in glitter glue, and I felt like the coolest girl in the entire world that night (even after getting to the show and seeing every other girl in their single white glitter glue glove).
Musak is hard on me.
Do you sing along?  Are certain songs triggers and which ones set you off and make you start singing?
*******
I bought myself new business cards this week.  I've had the same ones since 2007, and I still have over 3/4ths of the box.  So I never bother getting new ones.  The information doesn't change and the only place I really use them is at the yearly BlogHer conference and a few meetings throughout the year.  But I decided to splurge and get myself something that still is business casual but perhaps not as business so-casual-that-I'm-talking-to-you-in-flip-flops.  I mean, I am usually talking to the person in flip flops, but I'd like my card to not point out just how casual I am.  Especially when I'm speaking with people who have very serious business cards.
This is my old one: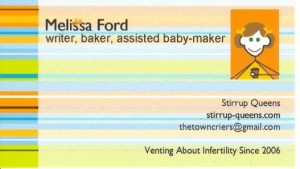 This is my new one: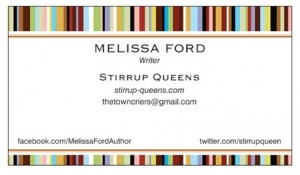 What do you think?  I plan to still use the top one, but now I have a second option.
*******
And now the blogs…
But first, second helpings of the posts that appeared in the open comment thread last week as well as the week before.  In order to read the description before clicking over, please return to the open thread:
Okay, now my choices this week.
A Glimpse Inside has a post about spirituality and what she believes, which is a gorgeous image within a sea of confusion.  While she doesn't know why terrible things happen or where we go after we die, she has this strong vision of her friend meeting her daughter in the world beyond.  It's just a gorgeous, simple, breathtaking post.
Hapa Hopes has a post about one of those dreams that you keep waking from and then falling back asleep to pick up again.  Not to diminish the feelings the dreamer gets from watching it in her head (some dreams just coat you with odd feelings for the rest of the day), but it was like a transcript from the best avant garde movie for the rest of us.  I think her interpretation sounds spot on.
In Search of Motherhood explains how she feels when her nurse tells her surrogate not to pee on a stick prior to the beta.  She writes, "Did it occur to the nurse coordinator that I don't want to find out from her on the phone — her with her always cheerful voice, which if we don't end up with a pregnancy is going to cut like a scalpel?"  It's a powerful post.
The Elusive Second Line has a post about her fluctuating weight.  Let's just say that I could relate a lot right now, but it's also just a raw, deeply-honest post about another aspect of infertility that the general world probably doesn't think about when they hear about the two week wait.
Searching for Our Silver Lining has a really interesting post about her opposite of the hero — the villain.  She looks at the way villains are made vs. born.  I love this post because it makes you think.  I personally shifted the opposite of the hero to be the anti-hero and wrote: "the opposite of the shiny, happy hero is the anti-hero as imagined by someone like Knut Hamsun. Like the narrator in Hunger — who is a product of his starvation. Who is a reflection of Hamsun himself after he returned from his failed trip to America to obtain a job.  Maybe the opposite of a hero is a human."  It's always a good post when I get to talk Hamsun.  So go read her post in full for a good brain-stretch.
Lastly, Danana Has a Baby has a post about the people who live across the street from her who are childless.  She realizes that she doesn't know their backstory; what has brought them to this place.  I love the ending on it: "I'd like to ask them what their story is. And I probably will. Both because I am curious, and because, especially after paying attention to what childfree bloggers have said over the last week, I want to acknowledge them, their presence in this neighborhood and in this world."  It's about noticing the world around you and acknowledging everything you take in.
The roundup to the Roundup: Do you sing in the grocery store (and which songs get you singing).  I got new business cards.  And lots of great posts to read.  So what did you find this week?  Please use a permalink to the blog post (written between March 9th and March 16th) and not the blog's main url. Not understanding why I'm asking you what you found this week?  Read the original open thread post here.