You're Beautiful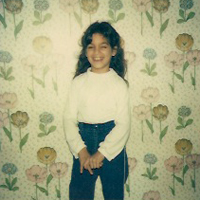 The ChickieNob needed new clothes, so I took her to the mall one night and told her that she could choose whatever she liked provided that it fit into the budget I had in mind and that I deemed it appropriate for her age. For instance, she wants a pair of steel-toed combat boots, but I told her that I wasn't shelling out $100 for shoes she would wear all of one year. And while she has never asked for one, I would nix the black and white string bikini we saw last year in a size 5T.
So she picked out a bunch of outfits and took them to the dressing room. And then she slipped into each one and stood in front of the mirror, marveling at herself. "I look so beautiful! I look amazing."
I ended up buying her everything because (1) it did look great — the girl has an amazing sense of style and (2) how can you not feed that self-esteem right now knowing how much it's going to be damaged by life down the line. I mean, how many of us stand in front of the mirror and say with pure excitement, "I look so beautiful!" I am more likely to say, "wow, this isn't half-bad" or "okay, this pair of pants doesn't make me look too much like crap."
I literally can't remember the last time I tried on an outfit, looked in a mirror, and was amazed to see myself. To want to look at myself all day long because I thought I looked hot. Outfits that I was pleased with: certainly. But gazing at myself with the admiration I saw on the ChickieNob's face: not in a long time.
Is it inevitable? That we get so accustomed to looking at ourselves that we get bored with ourselves? That youthful shopping trips are the equivalent of a new relationship? Of course everything is exciting — picking out your own outfits is new. It's thrilling! It's empowering! It makes you feel good! And then, like any relationship, we get used to it and we start picking it apart instead of just grinning at ourselves in the mirror. We start looking at clothing shopping as a chore — finding something that looks good that fits in a budget that is appropriate for the situation — vs. looking at it like an adventure, a sea of possibilities.
All I know is that I had this idea to take out the Flip camera and film her dancing in front of the mirror. The idea would be to show it to her later on, when she is starting to get down on her body. I'd remind her how much she loved herself back then. But then I thought about if it would change me to see myself gleefully loving my body, and I realized it wouldn't. I did love my body like that; ask my parents to take pictures of me in outfits I loved with their Polaroid camera so I could instantly see the photograph and put it in my picture album (and now I mortify myself by adding those pictures to my blog post). I have those pictures and I looked at them to write this post, and it didn't change the way I feel about my body one bit. Yes, I can guilt myself into feeling something different, but thoughts that stem from guilt are rarely lasting or even truthful.
I tried to think of the last time I looked at myself in the mirror and thought I was gorgeous, exquisite enough to be captured in a photograph. There was my wedding and the honeymoon afterward, when I felt good about my body. I was running daily and was at a good weight for my frame. I knew I was loved, and I had seen Josh's face when I walked down the aisle, and that probably confirmed the good feelings I was already experiencing about myself.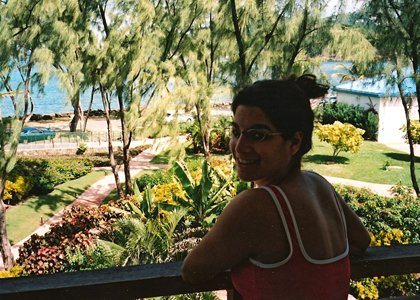 That was probably the last time I asked Josh to take a picture of me because I wanted to remember how I looked in a moment; because I felt good about how I looked. There are pictures of me with the twins in my belly, and I felt gorgeous then, but it wasn't about me, per se. It was about them. So I would have to say that my wedding, 10 years ago, was the last time I gasped when I looked in the mirror and wanted to gaze at myself for a while.
When was the last time you felt that way about your body or how you looked? Is there any way to hold onto that excitement from childhood when you thought you looked fantastic?
Part of me thinks that I need to send myself to the mall with the understanding that I'm not going to leave it until I have found something that makes me look at myself in the mirror like that. I don't have to buy it, but I have to find an outfit that makes me want someone to take a picture of me in it to capture the moment. Though it would only count, only be meaningful, if I really meant it. Until I'm in that moment, I can't tell (as I write this in the kitchen) if I'll really mean it.