Valentine's Day Blues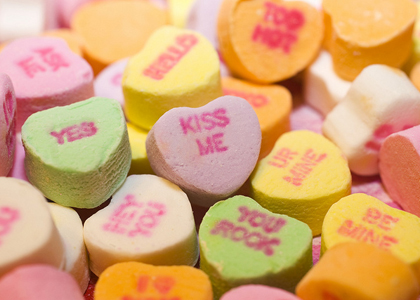 Before you ask, I'm not doing anything for Valentine's Day.  Because you were going to ask.  Because everyone seems to ask that.
Wait, that's not entirely true.  In a fit of romantic passion, I asked Josh if he would rather I defrost the vegetarian chili in the freezer or continue with the original plan to eat a tofu and snow pea stirfry for dinner.  See, I love the boy.
I'm not anti-Valentine's Day; I'm just not pro-Valentine's Day.  I think of it in the same way as Arbor Day — a holiday that exists on the calendar, but I don't do anything to mark it.
The twins are in those sweet Valentine's years when everyone needs to give a valentine to everyone else in the class.  Every child receives the exact same number of valentines and the exact same cupcake and the exact same pink plate.  I think fourth grade was the first year that people could give valentines to just the people they wanted.  I got a totally average amount of valentines, but the cutest boy in the class had to have two decorated paper bags to hold all his cards.  I knew that we all thought he was the cutest boy in the class, but I didn't realize quite what that meant until I saw those two bulging bags of valentines next to my completely average single bag of valentines.
Then we got to high school, and no one delivered those little cards anymore.  Instead the cheerleaders sold roses as a fundraiser, and they delivered the roses to your classroom during the day with a note attached to it.  So instead of bulging bags of valentines, the visual cue was a rose.  People who were dating someone usually got one rose.  Some girls received full bouquets from their boyfriends.  Pretty girls who were single received what amounted to a full bouquet from random guys — the equivalent of the bulging bag of valentines.  My best friend and I always sent each other a rose to be safe — so we'd have at least one.  And I could usually put my best male friend up to it by explaining that if he was going to marry me if we were both single at 30, the least he could do was suck it up and buy me a $1 rose right now.  So again, completely average.
And then I got married, and I decided that I never had to stress about Valentine's Day again.  I'm not a fan of flowers.  I don't eat chocolate right now.  I definitely don't wear perfume.  I get cards from Josh randomly throughout the year.  I sort of wish I did like Valentine's Day more, but I don't, and I can't really figure out a way to celebrate it that makes me happy and doesn't remind me of that boy's two bulging bags of valentines or stressing out over rose buying.
What are your memories of Valentine's Day from childhood?
Photo Credit: Barbtrek.