The 2012 Annual Purim Giveaway and Comment Lovefest
Yes, once again, it is time for my annual Purim giveaway (which becomes a comment lovefest).  Every spring, I put together about 36 cookie and candy boxes and send them off to friends around the country.  For six years running, I always leave a space on the list for a yet-to-be-named blogger who stands as a representative for all of you.  Believe me, if I could mail each and every one of you a box of love, I would.  But… you know… we can only afford so many containers of nutella.
So one of you it is.
The idea behind mishloach manot is to send out treats so no one is without dessert after the Purim feast. It's a recognition that not everyone has money for extras, but everyone could use some sweetness in their life.
It is my favourite thing I do all year, and we once again have a great theme planned (past ones include "Yes, We Can(dies)!" in honour of Obama's inauguration, the Winter Olympics, Dr. Suess, and Charlie and the Chocolate Factory), but you'll need to win the basket to see it.
I can tell you that in the baskets thus far (and whoever wins can tailor this to their tastes/allergies):
Chocolate and sea salt peanut butter cups
Chocolate and sea salt nutella cups
My famous chocolate chip cookies
Homemade lollipops
Trail mix
Chocolate bar
And whatever else I dream up between now and mailing the packages. I'm not going to be modest — people tell me that my baking and candies are fantastic and while they may be lying, they have inflated my culinary ego. This basket is going to rock. And 100% of the items are recipes of my own creation.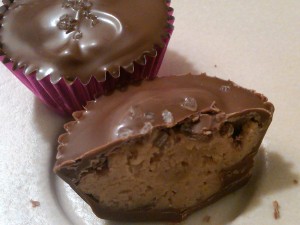 So this could be your year, lovely people of the Internets; it's yours to win. Here's what you need to do to enter the giveaway (and you can enter as many times as you like):
Leave a comment below (yes, a box full of candy for the low low price of one comment!) telling me where you left a comment already today–and feel free to leave, write a comment somewhere, and come back. Please put the name of that blog and a link to the post in the comment. And say something nice about that person's post. And no, commenting on this post doesn't count for where you've left a comment (though my blog still counts as long as you've commented on a different post). The posts that you're commenting on need to have been written in February or March 2012 (only entries with a link to a post written in that time frame count).
You can enter as many times as you like. Which means the more you comment around the blogosphere, the more chances you have to win (last year's winner did an insane amount of commenting). Only comments that talk about a post you read elsewhere in the blogosphere have a chance at winning (in other words, if you write below, "that looks delicious!" I'll be appreciative, but you won't be eligible to win. You need to list a place where you commented today, give the url for the post, and say something about the post).
Each comment counts as one entry, so if you've commented in three places, you're allowed to leave that in three entries here. Leaving it in separate comments is actually sort of an important fact because too many links in a comment will make it caught by the spam filter. I will release comments caught by the spam filter, but it will take me a moment.
The giveaway ends at 11 p.m. EST on Thursday the 1st, therefore, you can return all weekend and list new, great blog posts you found. If you're still confused, think of this as creating a Friday Blog Roundup-type list in the comment section, one comment at a time.  You can also look at the comment section of last year's giveaway to get a sense of the comments.
I will also love you forever if you read down the list and click over to read the other posts listed in the comment section. And don't just hit the first ones at the top of the comment list. Make sure you hit some of the people in the middle or bottom of the list and leave them a comment telling them that you agree with the original commenter — their writing does rock.
If someone writes something nice about a post you wrote this week, bask in the love. Oh, and here's a good impetus to go write something amazing on your own blog so people can come and comment on it over here and win the basket.
My usual blog rules apply: any spam is deleted — the point is to honour another person, not drum up business for a Viagra website — as well as anything rude.
I'll use the random number generator and announce it on Friday in the Roundup. So let the commenting/mishloach manot winning begin. Oh, and no, I'm not sharing these recipes. You'll have to win them to eat them.