My Little Grrrl Scout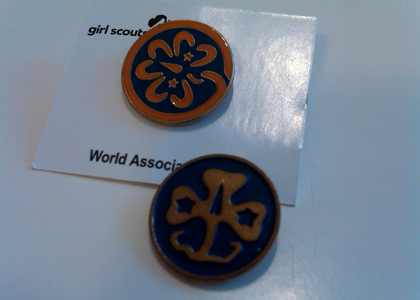 The old school I used to work for had a week long camping trip every fall to kick off the school year.  The students started going on the camping trip when they were in sixth grade.  On the second night of the trip, there was a special ceremony attended by seventh and eighth graders.  It was a "secret" ceremony that the kids waited for years to get to attend.  Even though I have no loyalty to that old school, I still have never told anyone what happened during the ceremony once you reached the campfire.  It really felt like a sacred space.
Once it started getting dark, a few teachers would drift away to set up while the kids finished up their activities.  And then, when the signal was given, the seventh and eighth grade students would separate out from the rest and gather to be led — without flashlights — into the woods.  It was the same path that you walked dozens of times during the day, so you had a sense of what the ground looked like, but it was still unnerving to walk through the woods — silently — with dozens of students for about twenty minutes.  It feels a bit like being lost in space after a certain point.
And then you'd reach a path of tea lights that spiraled like a maze, and you'd walk through this to reach the campfire and the ceremony.  Even writing about this makes me cry.  It is hard to explain how moved I was at my first ceremony.  I had been asked to walk towards the front of the group as the newest teacher, and by the time I reached the spiral of lights, I had been timidly walking in pitch blackness for a good twenty minutes, my heart pounding, all the students taking this moment very very seriously.  And suddenly you come to this gorgeous path of light, and it's lined with all these teachers who were welcoming you into not only the ceremony, but the fiber of the school itself.  And I just sobbed, as did many of the kids.
I didn't just cry the first year — I cried every single year.  It is this moment when you realize that you are part of something so much larger than yourself.  That I was a teacher, shaping the lives of these students, in the sort of school where children spent their entire pre-college education.  It was like joining a family that had a 75-year history and hundreds of alumni.  Sure, after a few years when the board fired the headmaster and the school went into turmoil, it became a dysfunctional family where I wouldn't send my own children.  But it was a family, nonetheless.  And because they chose me, I belonged.
I luuuuuuuuuuuuuuuuurve me some pomp and circumstance.  I'm a sucker for ceremony.  Slap "secret" in front of it and my body practically goes into quivers.
Last Wednesday was World Thinking Day, a girl scout-created holiday where girl scouts around the world come together to cogitate on a problem and come up with a solution.  Most troops celebrate the day on the weekend, either the one before or the one after.  This year's problem is the impact our lifestyle is having on the planet and ways we can lessen our burden on the earth.  Our troop is working on presenting ideas for water conservation.  They're first graders, so the solutions are along the lines of turning off the water while you brush your teeth as well as trying to figure out a way to utilize animal urine. (Have to say, this never occurred to me, but once the girl suggested it, I was like, "hells yeah, the future of usable water is in animal urine."  Not sure how to make this happen, but it sounded pretty damn brilliant for six years old.)
Girl Scouts receive their World Trefoil pin at their first Thinking Day, whatever age that occurs.  The pin symbolizes their inclusion in the world girl scouting organization and connects them to every other girl scout in the world.
I dug out my World Trefoil pin for the occasion because this weekend, my little ChickieNob is going to get pinned.
There are plenty of places where the ChickieNob belongs to something larger than herself, but this is the first time that she chose the group.  We picked Judaism for her.  We picked where she lives.  And being born into twinship is something outside her control.  But she chose to become a girl scout, take the pledge, and work to make the world a better place, filled with lanyards and sit-upons.  In doing so, she becomes part of this large whole, with a 100-year history and millions of alumni.
And moreover, like a first period or a Bat Mitzvah, the ceremony is like a little tea light welcoming her into womanhood.  Sure, she has a long way to go until she can figure out how to turn animal urine into a sustainable water source, but pinning that trefoil onto her uniform feels like a little nod, like I'm recognizing that one day, we'll be two old girls together.  Perhaps more two old grrrls than two old girls, with our matching steel-toed Doc Martens and Wonder Woman t-shirts.  Punk rock and zines.  But women, nonetheless.
Even if you're not a girl scout (but especially if you are), please help me to welcome the ChickieNob into the sisterhood.  Pass along any words you have on being a girl — advice or good thoughts.
Congratulations, ChickieNob.  I am so proud of you.  I hope that central vein of the trefoil always serves as a compass, guiding you to making the best decisions for yourself and the world around you.  You are a funny, smart, sassy, weird, wonderful, creative, beautiful, caring person.  Don't ever lose that, my sweet grrrl.