The Saddest Chapstick Story You Will Ever Read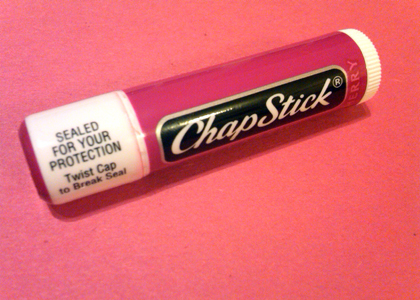 On Thursday evening, Josh bought the ChickieNob her first cherry chapstick.  She had been coveting one for a while and he was at the grocery store, so he picked one up to surprise her.  Needless to say, she instantly fell in love with her lip balm.  So much so that when I took her brother to his guitar lesson, she brought it along just to hold it in her hand because she didn't want to leave it back in the house.
And then she visited the school of chapstick hardknocks.
She did what ever single person has done at some point in her life, that quintessential moment of childhood when you absentmindedly (or in some cases purposefully) twist the bottom gear until the chapstick is up as high as it will go.  For a few moments, she marveled at the red brick of waxy lip balm.  And then she was taught the lesson every child learns the hard way: that twisting the gear to its limit brings about instant chapstick death.
At dinner, Josh had been telling me about a David Grossman book, To the End of the Land, where a mother drops off her child at base camp for army service.  Terrified that in allowing her son to be in the army she is literally offering him up for sacrifice, and fearing that she will one day receive the dreaded knock on the door by the army telling her that he is dead, she leaves her house so she can never receive that knock.  She spends the book walking through Israel, engaged in a game of magical thinking.  If she never receives the message, the death can't occur.
That's what I was thinking about as I watched the ChickieNob fall apart only a few hours after that dinner conversation, feeling for the first time that deep weight of regret; that wish that you could have made a different choice, that you could rewind time and change one small decision so the future won't happen.  Right now, it's a chapstick, and one day it will be something slightly bigger and then slightly bigger and finally bigger still, and with each moment that we're emotionally forced to drink from that well of regret, we choke on the knowledge that there was something small we could have done.  The ChickieNob could have left the chapstick on her side table and it would still be whole.  The mother in the book could have kept driving past base camp, moved from the country, kept her son safe.
Of course, we never know these things in the moment.  We only know them in retrospect.  Which is why retrospect is such a bitch.  Sometimes it seems cruel that our brains retain the memory of how we got to the place where we're at.  That it's our tendency as humans to walk ourselves backwards through each moment to consider all the tiny twists and turns.  By which I mean the twist of a road.  The turn of a chapstick.
After tuck in, the ChickieNob went into the bathroom to cry by herself, and Josh made me get her out and tell her the story I'm about to tell you.  So we sat in her rocking chair and I explained that my father once bought me a cherry chapstick, and I loved it because I thought it made my lips look red.  I wanted to be like Snow White or Alice in Wonderland and have pale skin and red lips so badly.  And while I couldn't quite get the pale skin, the chapstick at least gave me the red lips.  I used it for a while, making the sharp edges become rounded until the top was a perfect dome.  And then I twisted the knob at the bottom just to see what would happen.  And of course it broke.  And I cried, hard, because when you're a child, you never know when you'll get another tube of chapstick, which is something adults forget.  We become so accustomed to knowing that we can pick up a new chapstick the next time we're at the store that we forget how much children are dependent on us, how difficult it is not to know when you'll get a new pack of gum or a fresh chapstick.
The ChickieNob took another few minutes to cry, and there was a part of me that hoped as I held her that this moment somehow acted as a vaccine against all the stupid decisions she'll make in the future which will lead to regrets.  That somehow drinking from a deep well of regret over a broken chapstick will keep her from stepping on other small rocks in her path that will lead to future remorse.  That she'll always use a condom.  She'll never get in a car with someone drunk.  She'll be late one day and miss a terrible accident; she'll be early one day and meet the person she's supposed to meet.
Afterwards, I explained how a chapstick and a deodorant container and a twistpop work, how the twisting mechanism — which is very similar to the gears she uses in Lego robots — is connected to a rod, which raises a platform, and how this method of propel-repel is actually one of the greatest inventions of all time.  In fact, it would make the perfect science fair project, since it would not only be fascinating to take apart the chapstick container and the deodorant stick and the twistpop and see the parts inside, but it might actually save her fellow students from the heartache she is feeling now.  She stopped crying and considered this.  She agreed that she would take the chapstick apart.  So I agreed to go to the store and buy her a new one.  Since she had obviously learned the lesson.
She went to bed with her heart a little less broken.  Almost as if I allowed time to rewind by agreeing to get her a new cherry chapstick.  Which maybe erases the most important lesson there was in all of this: that we usually can't go back and change the present so it looks the way we want it to look.  That most moments in life are not as fixable and inexpensive as purchasing a new container of chapstick.  The man in the car crash can't go back and switch lanes.  The woman who is raped can't decide not to enter the house.  People who die can't be revived.   And most of the time, we can't know which one of our decisions is leading to that possible outcome until after the event occurs, after we mentally retrace all our steps.  And even if she's cognizant of that lesson and retains it, there is very little we can do to temper the feelings that come with retrospect.
So I let that lesson go, in exchange for a science fair project and a new chapstick so she could go to sleep with a lighter heart.