International Blog Delurking Week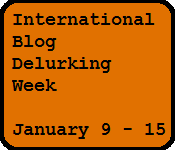 It may or may not be International Blog Delurking Week. The first full week of January is when we're supposed to slither out of the reading closet and check in with an "I'm here" comment.  Which would have been last week since the 1st fell on a Sunday.  But since we usually allow everyone's hangover to pass before we ask them to delurk, I waited until the second week in January to request everyone reading to raise their figurative hand.
Which seems to be what most people have done.
So welcome to International Blog Delurking Week.  I make a badge every year to mark the occasion, and I give you full permission to right click and grab it for your very own.
My reward for remembering to do this (when I could have just as easily forgotten) is that you have to delurk for this worldwide holiday (which is just as serious and important as all other worldwide holidays … such as International Harry Potter Reading Day.  And International Font Loving Week.
It is fairly easy. Leave a comment in the comment section below admitting that you're here. You can simply raise your hand and meekly admit that you're here with a simple, one-word "here" comment; or you can proudly raise your hand and tell us all a bit about yourself (my preferred method); or you can tell me what type of cookie you'd be if you were a lump of cookie dough (see, I'm trying to make it easy for you by even providing a comment prompt). The point is that I want to know about the people who read me, since there is a huge discrepancy between the number of readers in actuality and the number of readers I actually know are reading. Or a tongue-twister like that.
And that's all you have to do to celebrate.
So (clears throat to nudge you along), who is here?