The Stuff of Urban Legends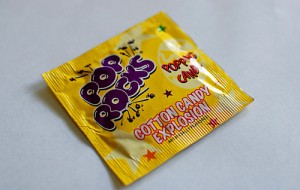 As Josh was getting in the shower, I commented on how bloodshot his eyes were.  He responded, "then it's a good thing that I have that container of Visine."  And I responded: "then it's a good thing that I didn't dump that bottle of Visine down the toilet." (Why would I do this?  I don't know.  It just felt like the right thing to say in that moment.)  To which he responded: "then it's a good thing that you didn't put a few drops in my coffee."
Putting Visine in your coffee, he confided, will instantly force a person to have explosive diarrhea.  He delivered this bit of knowledge with the confidence of a ten-year-old boy who has just learned how to induce explosive diarrhea from his older camp counselor.  He sounded smug, and he snapped the shower curtain behind him for good measure.
"Is that really true?"
"Why don't you ask the Google machine and find out?"
So I asked the Google machine and Snopes returned the answer: Visine does not cause instant, explosive diarrhea.  While I was online, I also looked up another fact from childhood we had been wondering if was true the night before: do clove cigarettes, or kretek, cause tiny puncture holes in the lungs from the cloves bits?  Alas, they do not.
Which caused us to lament all the good times we had as children believing that pop rocks and Coke would make our stomachs explode like Mikey, that Alfonso Ribeiro died while breakdancing in a Michael Jackson video, and a girl went down to the Amazon and didn't know that a spider had laid eggs under her skin until the lump popped and THOUSANDS OF SPIDERS STARTED CRAWLING OUT.
The problem is that with the Google machine, it is too easy to stamp out urban legends before they've really gotten a chance to perform.  Instead of lying awake in your camp cabin at night, wondering if it's true that a woman was driving down the road on a dark night and the car behind her kept flashing his brights at her until she pulled over and he got out to tell her that THERE WAS AN AXE MURDERER IN HER BACK SEAT!  Now the children know within minutes that this did not happen to a friend of a friend's mother.
And that made me sad.
Video didn't truly kill the radio star, but the Internet really did kill the urban legend machine.
What urban legends have you now proven or disproven with the help of the Internet?  Which ones are you still wondering about?
Photo Credit: Jamiesrabbits.