The Welcome Table: Annual Thankfulness Virtual Meal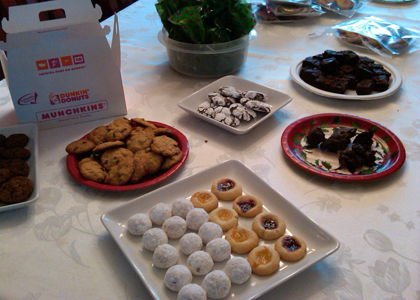 [Melissa clinks her glass to get everyone's attention.  Clears throat.  Begins]
Welcome back everyone, I am so glad that you're here at the third annual virtual ALI Thanksgiving meal – an online meal that is a yearly tradition before we scatter to our respective actual Thanksgiving tables.  Is it held during American Thanksgiving week instead of Canadian or another country's thankfulness celebration?  Yes, and I apologize for that, but at least I didn't hold it on American Thanksgiving so hopefully everyone will feel comfortable participating regardless of where you live.
[Polite laughter from the non-American contingency.]
The Thanksgiving myth is that people who had nothing more in common than simple humanness stopped looking at each other's differences on this day in history and sat down at the table together for a meal.  It's a meal about survival; about going into the winter knowing the odds are stacked against you and still pausing for a moment to think about the here and now.
And truly, what better myth to describe our own virtual Thanksgiving table, where donor gamete bloggers are sitting next to those living child-free after infertility, and the adoption bloggers are seated next to those starting their first IUI.  We have nothing more in common than our humanness and a desire to build our families.  Some have crossed the river and are standing on the opposite bank with the families they struggled to build.  Others are still wading in the water.  And some are left on the original bank, not able yet to move ahead or deciding to stay out of the water.  And yet, we place aside our differences – wait, not place aside: we learn from our differences, we utilize our differences – to create community.  We all have the means to support one another.  It is as simple as a word, a kind gesture.
I would like to start off the festivities by making a toast: to thankfulness.
I said this last year, and I'll say it again: I will always be incredibly grateful to this online community, a community that has grown to more than 3000 people currently, not to mention those who have slipped away from our community over the years.  It is difficult to put into words how it feels to know that there are people around the world connected to you emotionally.  You are tied to their story and they are tied to yours and together, those threads intertwine to make a web strong enough to hold all of us who walk over it.  It's not a spider web meant to ensnare; it's more the netting below the trapeze, there to catch you and cushion your landing in case you fall.
I asked all of you to bring a dish to this multi-culti potluck meal – there is no need to stick to traditional Thanksgiving fare when you have such a diverse table spanning the entire globe.  Please share with everyone at the table what you brought and why.
This year, I brought a pie — an apple pie to be exact — going with the tangible form of "American as apple pie" vs. my usual vegetarian matzo ball soup.  I'm not a fan of eating pie, though I like to make them because Josh enjoys pie and I like to make him happy.  Plus, for me, a big part of pie baking is the smell.  I love the way the kitchen smells right when the pie comes out of the oven.  So I'm placing my apple pie on the dessert table to be consumed at the end of the meal.  Or feel free to skip all the healthy stuff and jump right to the cakes and cookies.  There are no rules here.  What did you bring?
And please, start eating as everyone is introducing their dish.  We don't want the food to get cold and there are so many of us at this table.  Thank you so much for coming, and I'm going to carry the warmth of this meal with me for the rest of this week.  In fact, I just might print out this post and the comments below and carry it with me in my pocket to my actual Thanksgiving meal to have all of you there and feel free to do the same if you need the fortification or simply want the company of a few thousand bloggers at your table.