Bradley Cooper and Other Examples of Man Meat… (I mean, sexiest men alive)
People magazine has named Bradley Cooper their sexiest man alive.  But, no, it doesn't just come down to looks.
Ladies, take note: this Georgetown grad can whip up dinner, take you for a spin on his motorcycle and whisper sweet nothings in French (he's fluent!). Just don't try convincing him what a catch he is.
Wait, why are only ladies taking note?  What?  Men can't enjoy gazing at Bradley Cooper's dreamy… what colour are his eyes?… blue eyes? (I couldn't actually tell what colour his eyes are in the photo, but it says in the first paragraph that he has "dazzling baby blues," and I'm assuming that refers to his eyes and not that he has a less severe case of postpartum depression).
I don't know if I find someone cooking, driving a motorcycle, or speaking French sexy per se.  I mean, I loved it when Josh first cooked me dinner, mostly because it was so endearing how much he had to concentrate on the recipe and what an enormous mess he made to impress me.  And being capable of operating a motorized vehicle is something many adults are capable of doing so I don't jizz my pants every time I'm in traffic and observe all the people around me driving.  And with over 64 million people in France alone not to mention all other French-speaking countries and countless students who were forced to take a foreign language in order to graduate, I don't find the ability to conduct a conversation in a second language all that enticing.  I mean, listen, if the man spoke fluent Ubbi Dubbi I'd be a little more impressed.  After all, how many people speak Ubbi Dubbi these days since Zoom went off the air?
The problem, of course, is that beauty really is in the eye of the beholder.  I don't find Bradley Cooper particularly sexy. (I'm so sorry, Mr. Cooper, but maybe I'm not your cup of tea either.)   I didn't get excited for Ryan Reynolds in 2010.  While I had an enormous crush on Johnny Depp back in his 21 Jump Street days, my eyes sort of skipped over him during his feature in 2009.  Or Hugh Jackman in 2008.  Which is to say that I have a deep respect for Hugh Jackman — think he's a talented actor and I love the way he discusses his family — but I just don't find him sexy.  Perusing back through all the old Sexiest Man Alive winners, I can't say that People magazine and I have ever agreed.
If I ran People magazine, I'd slap Joshua Ford on the cover.  The man is sexy.  He runs out for emergency tampons when I don't buy them because of superstitious, hopeful reasons.  He told me I was hot when we were in the throes of treatments and I felt anything but.  He takes all the twins' night wakings, allowing me to sleep.  He cleans the snow off my windshield in the winter.  He still has all his hair and it's not even greying.  He scrunches up his nose in excitement when he talks about the Pixies.
That's who I'd put on the cover.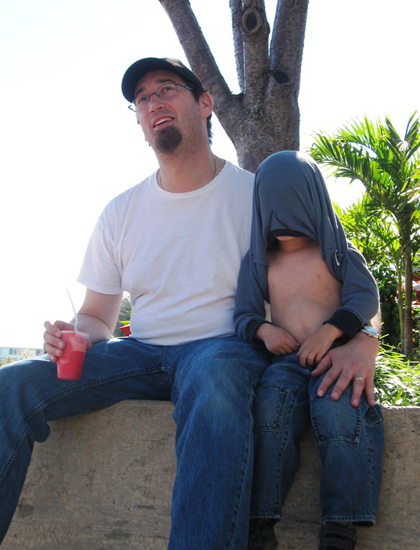 The Wolvog and Josh back when the Wolvog liked to pull the bottom of his shirt over his face and hang out.
And a close runner up is my celebrity-crush-since-last-February, Billie Joe Armstrong — even with his new blond hair.  (Josh claims he would never clear the snow from my windshield, and he's probably right… though it could be because he's from California and they don't get a lot of snow there.  But he also just might not be a gentleman like that.  That's sort of the problem with celebrity crushes — you just don't know the actual person.)
Who would you put on the cover as People's Sexiest Person Alive — both celebrity and non-celebrity?  Why person?  Because not every woman likes dudes.  Just sayin', People.