What We Learned at Disney World (Part One)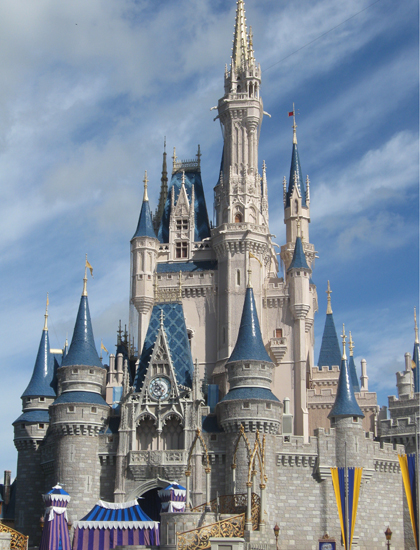 We recently went to Disney World for 9 days.  9 blissful days where our hardest decisions were whether to wait in a 25 minute line for Pirates of the Caribbean or come back later, or how many times in a row to ride Kali River Rapids.  We barely slept, we ate like crap, and we didn't do one equation from the math packets we brought along in their backpacks.
Josh was a little hesitant to go back to Disney so soon after the first trip, but I feel like we're really rounding on the end of their suspension of disbelief.  I know I said that last post, but this time I really really mean it (if you say "really" twice, it means you're super serious).
It is addictive to see someone fully engaged with their imagination — believing in all possibilities.  That is why we fork over thousands of dollars to Disney, isn't it?  Because it becomes like a drug watching our children (and frankly, ourselves) believe in fairies and wishes coming true and the idea that we too will visit the moon one day.
I have been in a deep funk since returning.  Funk actually doesn't really cover it.  I am down.  I feel like I'm going through withdrawal.  I don't feel motivated to do anything.  I spend most of my time looking at our photos and watching the movies we made.  I am irritable.  I had infinite wells of patience while at the park, but I'm snapping at everyone at home.  I don't want to talk to anyone.
It is entirely connected to that space because I don't feel this way when I return from other trips.  I come home from other travels feeling happy that I went but also happy to be back.  And when I return from Disney, I go through many weeks of being down.  I imagine it is similar to how Harry Potter felt when he left Hogwarts for the summer and had to return to the Dursleys, where life was dull in comparison.  It is hard to know that a magical place exists and you're no longer there.
Because yes, I have bought into Disney hook, line, and sinker.
If nothing else because it's a place where people believe in things once again.  You can't help but get caught up in the message that dreams come true; have it sink into your skin.  Every cynical cell in my body disappeared while we were there, and I was overcome with emotion staring at that big white castle and what it represents.  I hugged each character, burying my face in Mickey's shoulder.  For 9 straight days, I really believed in magic.  And making wishes.  And drank in every last drop of hope.
So you can see why it's hard to be home.
*******
I collected a few stories from our trip in Aesop fable fashion, things we learned along the way.  Which seemed like a more palatable way to shove our family stories and pictures down your throat.  I completely understand if you need to stop reading now, but you will miss out on hearing the Wolvog mourn Steve Jobs through an animatronic Steve Jobs or the ChickieNob's anxiety about the depth of Mickey's love.  Just sayin'.
*******
The Wolvog is not the most adventurous child.  We refer to ourselves as the Milds (whereas Josh and the ChickieNob are the Wilds, loving roller coasters, loud noises, and speed).  The last time we went to Disney World, there were more rides he wouldn't go on than ones that he would.  We spent a lot of time on the People Mover in Tomorrowland while Josh took the ChickieNob on everything else.  On one hand, the boy likes the People Mover and I think he should follow his bliss (I'd also put the People Mover as one of my top ten rides).  On the other hand, it is very frustrating to see him limit himself as well as impede the family from doing things together.
This trip, our friend gave us the brilliant idea to get him sound-blocking headphones since 90% of his fears are tied to sound.  My parents found him a child-size headset, and he wore it around the park.  It gave him the courage to try rides that he had inexplicably bypassed two years earlier.  He ended up loving Snow White, Peter Pan, and the tea cups.  Soarin' became his new favourite ride.  He got to enjoy the fireworks and even watched every 3-D movie, which are usually his worst fear.
Of course, it also got him noticed.  People stared when he slipped them on (it also didn't help when he rode Kali River Rapids wearing goggles).  They commented on them, as if headphones were the equivalent of entwining snakes through your hair.  We told him to just ignore the stares; that they didn't get it.  So he did just that, putting them on whenever he felt he needed them and leaving them in the bag whenever he could.
Sometimes all you need is a security headset to get you over your fears.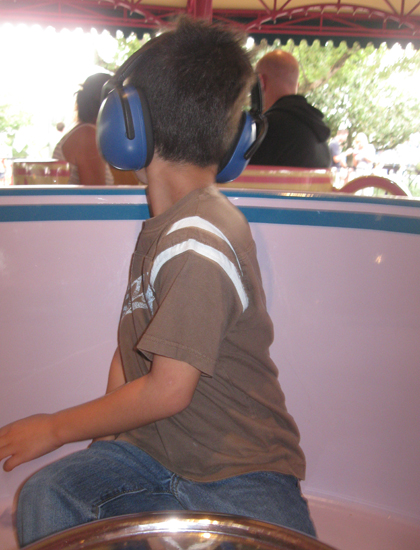 *******
At the same time, I needed to practice what I preached.  I was so busy trying to convince the Wolvog to try things that I missed the fact that I was also limiting myself at the parks.  I knew I didn't have it in me to try things such as Space Mountain or Expedition Everest.  But milder rides such as Mission Space and Soarin' were probably totally do-able, though I was too scared to try them.
I told Josh that I needed to get over my fears.  I didn't sleep the night before we went to Epcot for the first time.  I was literally physically ill as we went to the park, completely overwhelmed with the idea of getting on these rides and equally overwhelmed with how I'd feel about myself if I didn't try them.
The first one we went on was Mission Space, and yes, I spoke to about twelve employees before we went on the ride (the green, milder version).  I was panicking each time they mentioned that we could still back out of the mission, though the ride operator promised me that it was referring to the orange, wilder version.  That the green version was completely tame and if I got scared, I could close my eyes and be essentially transported off the ride.
WHICH TURNED OUT TO BE A COMPLETE LIE.
The ride was awful.  The twins and I screamed through the whole thing; and we all had our eyes closed through the majority of it.  I hated the sensation of being tilted back and forth inside the simulator.  When I got off, I felt ill from being so tense for four minutes.  And now I really didn't want to try Soarin' because it also was a movement simulator.  But the rest of the family kept trying to convince me to stick to the plan and try it.
And, oh my G-d, it was the most amazing experience.
I'll admit that I squinted my eyes a lot that first time riding it, but we ended up going on it four more times.  It turned into our favourite ride, and I cried the last time we went on knowing it would be years before I got to ride it again.  I can't believe I almost missed out on it.
Don't let your fears limit you or you could miss out on an amazing experience.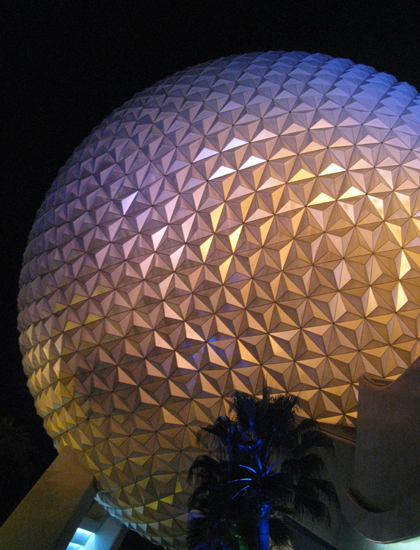 *******
On our last night, nearing on 11 pm, the ChickieNob realized that she hadn't met Tinkerbell yet.  We were about to get on our final ride; we were exhausted, going on our 14th hour in the park (on our 7th day there!) but we asked the ride operator if she thought Tinkerbell might still be hanging out in Adventureland.  She was doubtful, but we grabbed the twins' hands and ran from "It's a Small World" all the way to Adventureland in the dark.  When we got there, the pale blue doors to Pixie Hollow were locked.
The ChickieNob, of course, cried.  We stood there for a bit, trying to gather up the energy for the return trip to our final ride.  Behind us, an employee was using the tip of his mop and a bucket of cleaning solution to draw the most amazing free-hand Mickey and Donald on the pavement.  It wasn't a planned event; just a man paused from his cleaning duties, entertaining us with his talent.  We watched him step around the concrete, his broom a paint brush, bringing Mickey to life until the water evaporated.
Sometimes if you're only focused on the magic you're seeking, you miss all the other magic happening around you.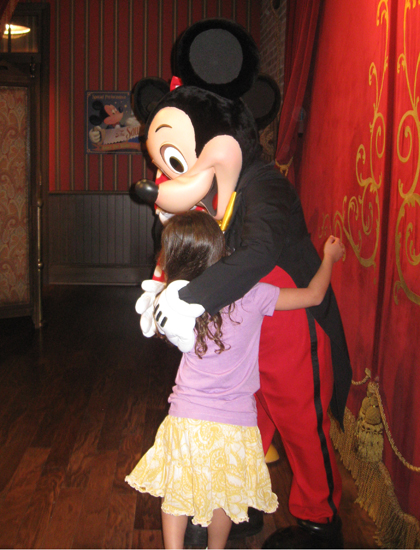 *******
Okay, this is getting awfully long, so more Aesop-like fables from Disney World coming in a second post.  Please indulge me.  I took 400 photographs, and I have to put these pictures and stories somewhere.