Sex, Infertility, and Where to Shove the 40 Beads
Last week, The Today Show featured a new book called Forty Beads: The Simple, Sexy Secret for Transforming Your Marriage.  It's the sex book of the moment.
The backstory is that this couple had gotten to a terrible place in their marriage, and the woman's SIL gave her the advice that they should have sex daily. (I'm really hoping that the SIL is her brother's wife and not her husband's sister.  Because nothing says creepy like a woman who eagerly tells her SIL, "please screw my brother nightly!")
She tried it and it worked.  Time passed again and their marriage unraveled again.  Now it was a few days before her husband's 40th birthday.  She remembered — according to The Today Show — that her parents also enjoyed a nightly porking session:
Every year, at least for as long as I've been aware of it, my mom has given my dad an entire month of sex for his birthday. I hadn't really given their steamy Septembers much thought until then.
Do you know this much about your parent's sex life?  No?  Me neither.
So for her husband's 40th birthday, she promised him 40 nights of sex.  At first, the nights were supposed to be consecutive, but in the end, the idea Carolyn Evans proposes (and what you need to do to become a Beader) is to give her husband a jar of 40 beads.  When he wants sex, he drops one in her bead catcher, a bowl she keeps by the side of the bed.
The reason I find this book so incredibly disturbing is not because it takes the act of sex — which can range from a spontaneous satiation of the intense feelings you have for another person to the obligatory romp that occurs around ovulation — and reduces it to a chore to be demanded by one person in the partnership.
I find this book disturbing because the point of the book is to use sex to fix a marriage.
That's not only a lot of pressure to put on an act, but it takes the focus away from the actual problem and places it on this physical act that should be one of the tangential arms to a marriage, not the sole body of a marriage.
It's like saying that my weight problem has nothing to do with the fact that I eat out of anxiety or sadness and instead I should focus on sitting down while eating my meals and that would solve! my! problem!
I obviously think I should focus on why the fuck I turn to food when I'm anxious or sad rather than something else.  I think I should focus on why I'm anxious or sad.
By making sex the "body" of the marriage, by giving it that amount of power, you relegate other parts of marriage that need to be in balance to the outer limbs.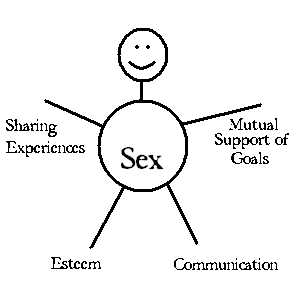 Whereas all of those items on the limbs should actually be in the body and sex should become an extension of having a strong core.  Just one of the fun things a couple does together along with whatever else floats your boat.  If not, sex becomes the end-all-and-be-all, the judge of the strength of the marriage, and when that happens — and if your sex life isn't perfect — it throws all those other, more important things out of whack when they may have been fine if you had a different way of viewing your partnership.  In other words, making sex the focus has more potential to break things than fix things.
Which isn't to say that I don't think a sex life is important.  I'm a big fan of sex — perhaps Josh should be giving me the jar if we did this instead of keeping to Evan's heterosexual caricature of sexual desires.  I enjoy sex frequently.
But I think anyone infertile knows that sex takes on a very different meaning if you entered into your relationship believing you'd be able to use sex to procreate (and I'm sure that someone will inform me that it's also true for those who go into family building with known problems, but I only know based on my experience).
Sex becomes this physical act that stands as the gatekeeper for what you can't do — make a child.  It becomes this act that you need to do regardless of how you're feeling in the moment when you're ovulating, which makes sex as appealing as Brussels sprouts.  It can be a huge relief not to need to have sex anymore if you're doing treatments.  It can be a reminder of loss — it's the act that brought you to your  emotional pain.  It's frustrating.  It's painful.  It's saddening.  I have yet to meet an infertile couple who said, "I am so thrilled we're infertile because it means we get to have lots of sex" despite what dumb-asses think is one of the benefits of being unable to procreate.
Unlike other marital problems, sex is at the core of infertility.  And I don't think bringing back a desire to have sex is as simple as placing a bead in a bowl.
I think you do need to at some point come back to a place of wanting to be physical, though that physicality shouldn't be this one-sided, small-minded idea that a physical relationship = missionary-position, woman-submitting sex (you have hands, you have a mouth, you have an imagination — use them!).  But it takes time to get there and there aren't shortcuts.  Rebuilding a sex life that has taken a hit due to infertility is more of a math equation than a self-help book:
time + commitment on both people's parts to address the issue + leniency and understanding when the other person isn't working on your time line = better sex life.
I think you need to come at it with the understanding that it takes time — and some "times" are more right than others.  I think it takes a commitment and flexibility on the part of both people to say they are willing to do what the other person needs them to do within reason.  And when that doesn't mesh because the needs are in direct opposition, to take that third part of the equation.  Leniency.  Not taking your frustrations out on the person.  That leniency has to flow in two directions; and both people need to feel safe that they can express themselves.  They can push themselves without having the other person push them.
The way I mentally approach the idea of sex in a marriage is that the action is not a given.  There are plenty of life situations (including old age) where sex might not be possible.  Not where it's being withheld as a weapon, but where it is simply impossible for physical or emotional reasons.  And is it possible to still have a happy, healthy marriage sans sex — yes, I believe it is.  Therefore, it's a limb; it's not the body of the marriage.  Is it possible to have a happy, healthy marriage sans understanding or support — no, I don't believe you can have that.  Do you see the skewed focus of the 40 beads?
For a book to place it in that position of importance is to create more pressure, creating more problems.
So that's how I feel about the concept of the 40 beads.  If you're using the book as a sex game because sex games rocks your boat, let it rock your boat.  But to use it to fix a marriage is no better than having a child or buying a house or starting a new business venture to fix what is broken in the marriage.  Those things are all gimmicks.  To fix a marriage, you need to get to the heart.  Which is located in the body.
As I was writing this, I went outside to see two squirrels fucking under my car only to chase them away and have them return for a three-way.  Sex seems to be on everyone's mind.  So if you'll excuse me… cough.