It Sucks to be the Adult
I had this sucks-to-be-the-adult moment on Friday while we were getting ready to go out to the butcher.  I opened the front door and saw a cricket in the top of the door frame.  The kids had already walked through the door and I panicked and slammed the door on them, then opened it and shrieked for them to come inside, and then slammed the door again once they were behind me.
"There is a cricket in the door frame," I explained.
"But crickets can't hurt you," the ChickieNob told me.
"They don't even have mouths," the Wolvog said.  (I personally think this may be incorrect, but I'm not going to Google crickets to find out.)
"Will you go outside and kill it?" I asked, knowing full well that there is no possible way for them to reach it.
"No way," the ChickieNob shivered.
And it freakin' sucks because as the only adult in the house, it was my responsibility to go knock it away.  But the only way to knock it away would be to run underneath it.  So I came up with a plan: I would open the main door, throw open the screen door and jump out, and the twins would slam the main door behind me so the cricket couldn't jump in while I knocked it away.  Fantastic plan.
(First, though, I wasted a five minute chunk of time explaining to the twins why they don't want to grow up and become the adult because you have to do stupid shit like this.)
Everyone was ready.  I grabbed a fly swatter and a bottle of bug spray and opened the door — slowly — and checked to make sure it was still in the frame.  Then I bolted through the second door and the Wolvog slammed the front door on me.  Triumphantly past the cricket and in a position to actually get rid of it, I turned around to see THE FREAKIN' SNAKE!
It was actually not the original snake.  This one was black and only 2 or 3 feet.  It was skinnier.  BUT DID I MENTION THAT IT WAS A SNAKE?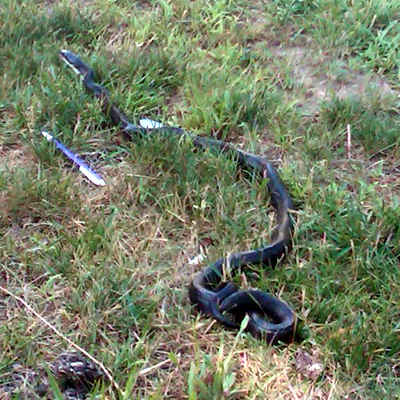 So I have the cricket in front of me and the snake behind me.
Because I'm an idiot, I was actually more fearful of the cricket.
After snapping a picture of the snake with my blackberry (because that's what you do in these sorts of situations), I went to work trying to kill the cricket with bug spray.  But the thing wouldn't die.  It kept creeping around the door frame.  Luckily, a man was out walking his dog and he came by and helped swat it away for me.  He also told me to leave the snake alone because it was "great for eating mice."  Which is all well and good, but did I mention that means we're living around a SNAKE?
The man also turned out to be a plumber/electrician and lived in our neighbourhood, so I took this opportunity to make a new friend since he seemed totally fine with the idea of replacing our exterior lights and seemed like the sort who would come over and catch a snake for me if it ever got in the house.  Because, again, this entire time we're talking, there was a black snake a few feet away.
I never want the twins to grow up, but part of me feels like the trade-off for becoming teens is that the responsibility on cricket killing and snake handling gets spread around.  I may still need to be an adult and pay the bills, but at least we can play rock, paper, scissors to see who is going to get the bug. (Please let me always win, please let me always win.)
The twins and I like to play a game in the car sometimes called "The Best Part of / The Worst Part of" where we name the best and worst things about being a kid or an adult.
For instance, the best part of being an adult is that if you want to have cookies for lunch, you can have cookies for lunch and no one can stop you.  The worst part about being an adult is that if a snake gets into our house, I'm going to have to put on my big girl panties and deal with it.
What do you think the best part and worst part about being an adult is?