Happy Birthday to Meeeeeeeeee
We interrupt my existential crisis to reflect on the actual birthday celebrating festivities and eat figurative cake and put up streamers and all of those sorts of things tomorrow.
Happy Birthday to Meeeeeeeeeeeeeeeee!
Since my birthday falls between two weekends this year, I decided to claim both for my own.  This past weekend, we went to the aquarium sans kids and contemplated the jellyfish.  They just float through the water trailing gossamer tentacles, not concerned about paying the mortgage or procreating or growing old.  As far as I understand, based on information from the elderly aquarium volunteer, jellyfish do not have midlife crises.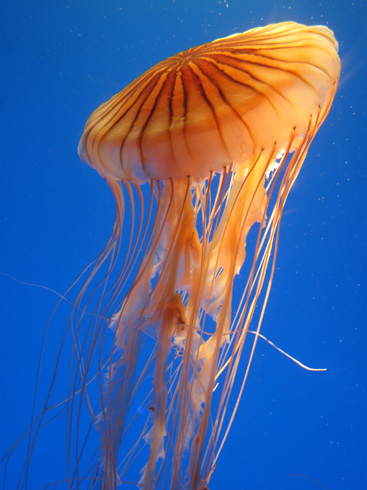 They don't check themselves in the mirror, fretting about grey tentacles.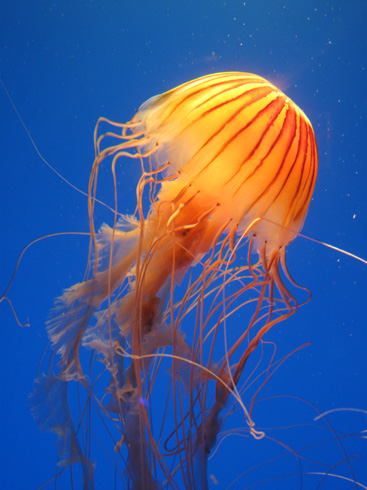 Josh gave me the best birthday gift of all.  I've had a burning question that I've always wanted to ask, but didn't want to be the one doing the asking.  On this visit, Josh allowed me to save face and took one for the team in honour of my birthday.  He marched up to the information desk and inquired if anyone had ever fallen or jumped into the stingray pool.
"No," the aquarium volunteer informed him.  "I mean, there have been other things that have fallen in — cameras, cell phones.  But never a person."
I've got to say that not only was the answer anti-climatic (I was assuming that the aquarium averages 2 or 3 stingray- or shark-inflicted deaths per year), but I didn't really believe him.  People die every so often at the zoo when they climb into the lion enclosure and that takes actual skill to scale the wall.  Falling into the stingray pool is so simple that I contemplated showing him just how simple it would be by taking a running leap over the low railing (until I remembered that the pool is filled with stingrays and sharks).
Please don't get me wrong — I'm thrilled that everyone is exiting the aquarium alive.  The answer just seemed suspect.
On that dark note, let's go back to celebrating my birthday!  With cake!  And streamers!  And fish!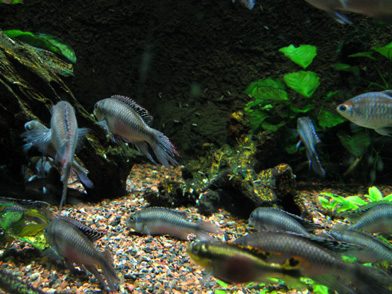 And more fish!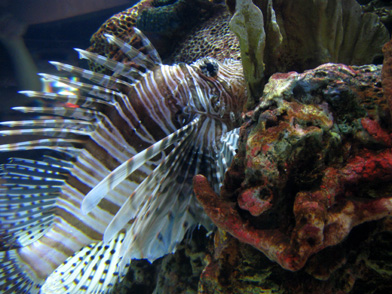 And turtles!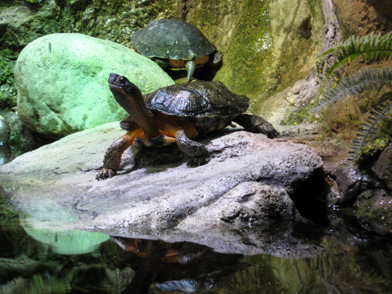 Josh took a picture of me by the bubble chambers.  He told me that I didn't look happy.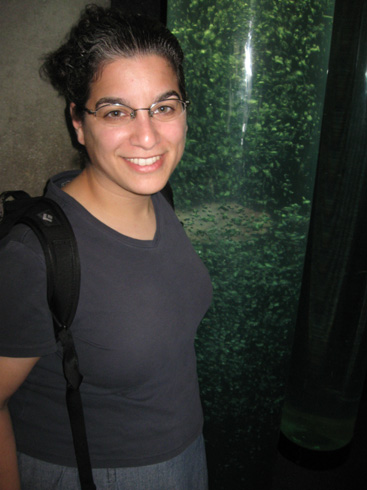 Perhaps I looked a bit wan.
This was the picture that he told me was perfect; squinty eyes and all.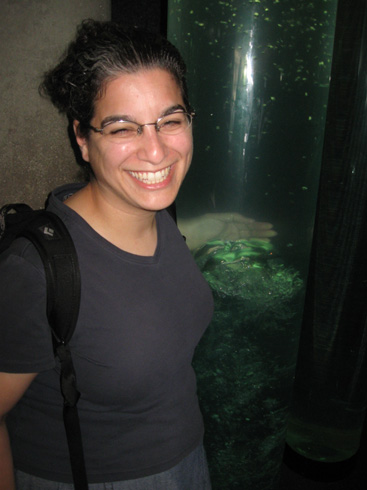 That is perhaps closer to how I feel despite my existential crisis.  That underneath all those layers of angst, there is a girl with an enormous fork, about to dive into a chocolate cake with birthday candles on it.
I am trying to come up with something fabulous for this upcoming weekend since I get a second birthday weekend.  Ice cream — definitely.  And force the family to listen to Green Day on continual play.  And perhaps purchase my first electric guitar.  And a splash park if it's hot enough.  I'm open to any other ideas as well.
Perhaps we'll just take a long drive, make a wrong turn, and see where it takes us.