Bob Jackson
I got the electric guitar this week — a dark blue and white Fender Squier Stratocaster.  We brought it home and plugged it in and took turns rocking out for an hour.
And then it was time to name it.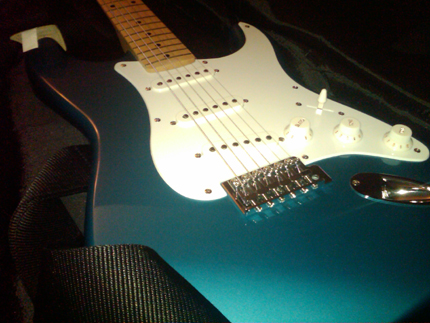 All of my suggestions were rejected including Peebles St. Ives (the ChickieNob informed me that "Penis St. Eye" is a terrible name) and Harvey Sweatmachine.  Suddenly, the best name occurred to me — Bob Jackson — and once I said it, everyone in the room agreed that it was the perfect name for the guitar.  Since then, we have only called the guitar Bob Jackson (as in, "where did you put Bob Jackson?" or "Can I play Bob Jackson?").
The ChickieNob at first didn't want me to share where the name comes from, but she has since changed her mind and said, "feel free to share this with the Internets."
A week or so ago, we were watching Free to Be You and Me and the ChickieNob said to me, "when did Bob Dylan die?"
Me: He didn't.  He's alive.  He just celebrated his birthday.
ChickieNob: No, Mommy, he's dead.
Me: Did he die today? (I had been offline most of the day and it was possible that he had died without me knowing).
ChickieNob: No, it was a while back.
Me: Then he's definitely still alive.  He's probably touring this summer.
ChickieNob: Mommy, you just have to accept it and stop pretending.  Bob Dylan is dead.
Me: I'm not pretending!  I promise you that Bob Dylan is very much alive.
ChickieNob: Then why did he die when he took all of that bad medicine?
Wolvog: (slowly tearing his eyes from the screen) Are you talking about Michael Jackson?
ChickieNob: (thinking for a moment) Yes, I believe I am.  Is there a difference between Bob Dylan and Michael Jackson?
Me: Yes, there is an enormous difference!
Wolvog: Like one of them is alive and the other one is dead.
ChickieNob: Then let's switch the question.  When did Michael Jackson die?
Hence how our guitar got its moniker.