Scooter Girl
For those watching my midlife crisis unfold, I bring you the latest installment which has included guitar lessons, a wardrobe consisting exclusively of superhero t-shirts, pinball-and-comic-book afternoons, and now… the scooter.
After the royal wedding, I went out and got the twins scooters.  Not a Vespa, but those pre-skateboard things consisting of a skateboard with a handlebar.  Watching them try with mixed results to balance on the board filled me with jealousy.  I wanted a ride, and if I hadn't purchased kid-sized ones (where I probably exceeded the weight limit), I would have demanded a turn.
I spent a night researching my options and went to bed with the decision to buy myself one in the morning.  By the time I woke up, I rethought the whole plan.  What the hell was I thinking?  First and foremost, I would most likely break something because I'm the most uncoordinated person in the world.  Secondly, even if I didn't break something, I'd probably do some other sort of bodily damage — pulled muscles or gaping flesh wounds.  Thirdly, even if I managed to somehow remain alive, I would look ridiculous.  Please, picture for a moment a greying-haired woman on a skateboard.
So I tabled the idea.
Even though it kept nagging at me.
Last Tuesday, we had a few errands that had.to.get.done; adult, boring minutiae that were the more exciting alternative to what had to get done in the house (namely, clean toilets, vacuum floors, and laundry).  As I looked at our afternoon, the nagging entered a crescendo.
I was thinking about a friend of ours with cancer, the same diagnosis that kicked my ass into restarting guitar lessons.  The last time we saw him, he looked so old.  And the amplified, internal get-the-fucking-scooter song was wailing out about how I'm not getting any younger, and how I'm more likely to have the body to do this now than I will ten years from now.
So I picked up the twins from school, and we took care of what needed to get done, and then we went to buy me a scooter.  The man at the store mistakenly thought the scooter was for the kids, so he kept bending down and directing the answers to my questions to them.  We finally informed him that the scooter was for me, and he stared at me dubiously and asked me to be careful.  He sold it to me with this expression that can only be described as fearful.  Like he was a goodhearted drug dealer who wondered if he should be selling this horse bladder-sized bag of cocaine to a junkie.
Something like that.
I should stop here and say that I've been on one of these exactly once and it was when I was under ten years old.  We were inside a house, on a flat surface, and the scooter had three or four wheels.
I planned to ride the one I purchased outside.  On a hilly street.  With uneven pavement.  Oh, and it only had two wheels.  And did I already tell you that I'm very uncoordinated?
We brought it home and assembled it.  Even though I should have been making dinner and we were going to be massively late to bed if we went outside, we trekked outside with our scooters.
And I was scared shitless.
I mean, my heart was pounding and I felt dizzy because I was so terrified.  I'm not a fan of roller coasters.  I'm not even a fan of driving over 15 miles per hour.  I am just not a scooter type of person.  But I thought about myself at age 80, and how I'd have regrets if I didn't do this.  And I pushed off.
After a bunch of wobbly, urine-releasing moments of terror (moments filled with my neighbour screaming, "please be careful!" interspersed with her laughing hysterically at me), I started being able to keep both feet off the ground for three seconds without falling.  And as time went on, I was able to go farther and farther. (Dinner, kids?  What dinner?  I don't have time to make you your damn dinner.  I'm scooting!)  After a half hour or so,  I was riding down the street — the entirely length of our street — with both feet on the board, taking curves, navigating around the other kids on scooters who came out of their houses to ride with us.
I was a fucking rock star.
Which took care of my first two fears — I was physically doing this without harming myself.  I thought about the third fear as I watched the teenage boys playing football; all of them pretending that they weren't laughing at the woman on the scooter.  Maybe I was their joke of the evening, but perhaps they'll one day be in their late thirties and think about how difficult that was for me to get on the scooter and conquer my fears.
Oh, and they'll think about how I was a fucking scooter ninja rock star.
So much so that I contacted the local skate park to inquire about getting skateboarding lessons.  I think I've found my calling.
As I was writing this, I looked at the play kitchen next to my desk and noticed that one of my little Stuart Smalleys had left herself a message: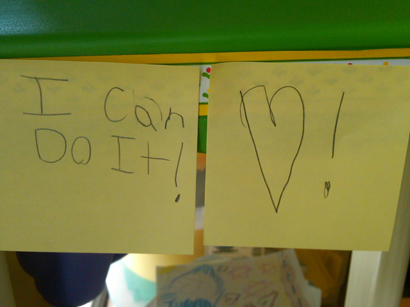 And I can freakin' do it too.