Time, Attention, and Internet Brouhahas
I've been thinking of my attention as of late in terms of money; in the sense that we all have a limited amount of time in our day and therefore, by default, a limited amount of attention.  We can spend our attention mindful of our attention budget, taking into consideration all that needs to get accomplished, or we can spend our attention freely, letting the day take us where it will and perhaps ending up at the end of the day with a long to-do list still incomplete.
The first way of spending my attention is pretty fucking boring, to be frank.  I mean, I need to be an adult and get my work done and get the laundry done and tick off all the tasks on my to-do list.  But it's like exercise: I feel good after I've done it, but I don't enjoy doing it.  It makes me feel virtuous, but it doesn't feel creatively fulfilling.  And I usually get to the end of the day and feel like I spent all of my time on other people and not myself.  I can literally go through day after day of doing things for other people, placing myself second, and never getting to myself and my own wants at all.
The second way doesn't work either.  It's sort of like eating brownies for every meal.  The first one tastes great, but after a bit, you start to feel queasy from all of the fat and sugar, your body quite aware that there's no substance to the food.  I'll declare a mental health day from work and use it to read blogs, jumping into Facebook and Twitter, and I'll look at the clock and realize that four hours have passed and I've enjoyed myself, but I don't feel full.  My to-do list is still screaming at me.  And I generally feel like crap about myself when I don't feel that I've been productive.
And at the same time, who defines productivity except myself?
I put a post-it note above my computer last week that reads: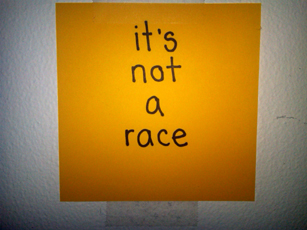 Because I need that reminder.  I have a tendency to run instead of walk.  I have a tendency to feel panicked that I'm not doing enough when it's quite clear that I'm stretched thin.  This race is entirely internal — I don't feel like I'm racing other people.  I feel like I'm racing the universe itself; time itself.
I internalized Mr. Keating's speeches in Dead Poets Society a bit too deeply — I feel like every moment of the day, I am screaming at myself to seize life (carpe diem!) and even if I'm holding it, I'm still screaming at myself to seize it harder.
*******
There's another way to think about spending attention.  In the example above, it's about being mindful of quantity.  I have 1440 minutes in my day.  How am I going to allot them to the various things I need to do and want to do?
The other side is quality.  Am I spending my attention on things of worth?  I'd argue that when I'm mindful of how much time I'm spending on it, reading blogs is a quality activity.  I learn something new; my world is expanded; and I connect with another human being.
That is, when the blog is worth reading.  Or when the news story is worth following.  It is too easy to get sucked into the outrage of the day.  It is too easy to waste hours of time over someone else pushing our buttons.  I felt that was last week with the whole Scott Adams misogynistic rant.  I could feel myself getting sucked into thinking about it, reading about it, talking about it.
What a waste of time.
Laurie's point at the end of the Scott Adams post is what kicked off this idea — that I don't need to give myself a Tiger Blood transfusion just because someone else is putting the bag on the IV pole (wait, what sort of analogy is that?  Why do I need a transfusion?)  It was further cemented by a brief email conversation with a friend who said that his blog traffic was high if he was talking about something controversial, weighing in on the big daily blogosphere brouhaha.  But his readership dropped considerably if he wrote a touching post about himself.
Personally, I skip over the posts about the big daily blogosphere brouhahas because it goes back to quality — and I don't see drama as time well-spent.  But I love his quieter posts about himself.  Those are the ones that move me and make me feel as if I spent my attention wisely upon reading them.
It's not that hard to turn down the Tiger Blood transfusion; to say "no thank you" to someone else's drama when your peeking into their world.  But what about when they kick down your figurative door and drag you into the drama?  This happened recently to Flotsam and she wrote a long, albeit important (and worth reading!) piece about it.
She states about not interacting with people who are trying to provoke you:
Alas, Conventional Wisdom made contradictory demands upon me. One such set of demands goes like this: Do Not Acknowledge Internet Trolls/Do Not Let Internet Trolls Dictate Your Behavior. The idea is to proceed as if the incident never happened at all, so as not to give them the satisfaction of knowing that they "got to you." Attention will only encourage them, because attention is what they want, so we mustn't give it or The Terrorists Win.
Putting yourself out there means that people crash into you (some nicely, some not so nicely).  On one hand, you get the giant game of Marco Polo that Alexa mentions at the end of the post.  On the other hand, you get the email that she mentions at the beginning of the post.
I'm not even sure where I'm going with this beyond the fact that I have been acutely aware as of late of how I am spending time.  Of how much I spend on others and not on myself.  Of whether I'm buying quality moments with my attention or whether I'm buying garbage — and whether what I buy is totally in my control (I mean, if someone steals my wallet, the money is gone but I didn't choose how I spent it.  When you get an email like Alexa received, you don't necessarily choose how you spend your attention because you're going to be affected emotionally).
How are you spending your attention?  Your daily 1440 minute allotment?