Concert on the Blog: One Ring Zero
Welcome to the first concert on the blog.  Get your lighters ready because here we go…
[For those who are new: Concert on the Blog Series (and the attached "performance lobby") is a weekly post highlighting a musical, theater, film, or comedy performance. It's also a chance for viewers to communicate with the artists via the comment section on the post. In other words, it's free publicity for artists and it's free enjoyment for viewers — a win-win for all participants.  Please click here to find out how you can have your performance featured.]
Melissa the Emcee: One Ring Zero is the brain-child of Michael Hearst and Joshua Camp.  Though their sound and record themes are completely unique, if I had to compare them to another band in order to prepare you, I would say they're like an incredibly well-read They Might Be Giants.  Or the circus if the circus rocked out.  Or a musical Neil Gaiman.  Which actually isn't that far a stretch since they are the band best known as being part of "lit rock" for their project, As Smart as We Are, setting the words of famous authors to music (samples from that album below).
For those who prefer their music straight no pictures…
Josh's favourite is the one using the words of Jonathan Ames called "The Story Of The Hairy Call."
Audio clip: Adobe Flash Player (version 9 or above) is required to play this audio clip. Download the latest version here. You also need to have JavaScript enabled in your browser.

Probably my favourite song from that project is the one from Michael Chabon explaining why he can't participate in the project:
Audio clip: Adobe Flash Player (version 9 or above) is required to play this audio clip. Download the latest version here. You also need to have JavaScript enabled in your browser.

There's also the slow, creepy words of Neil Gaiman:
Audio clip: Adobe Flash Player (version 9 or above) is required to play this audio clip. Download the latest version here. You also need to have JavaScript enabled in your browser.

But it's not all author's words. Their rewriting of Holst's The Planets on its 100-year anniversary is a brilliant idea.  Here is Pluto:
Audio clip: Adobe Flash Player (version 9 or above) is required to play this audio clip. Download the latest version here. You also need to have JavaScript enabled in your browser.

For those who prefer to see what they're hearing…
Michael Chabon:
Lemony Snicket (also known as Daniel Handler):
Venus:
For those in love with the band (and please let them know in the comment section below), you can find them in many places on the Web:
*******
The performance lobby (right above the comment section where you can hang out and discuss the band and the artist of the day) is currently featuring the photography of a fellow blogger, Funny Little Pollywogs.
She started out snapping pictures around her city with a point and shoot camera.  When she inherited her Nikon DSLR camera from her grandfather, her photography hobby blossomed.  Her love for portrait photography developed as she witnessed the joy that it brings to others.  She specializes in maternity, babies, and family portraits.  She is a full time teacher and passionately enjoys blogging and her photography.  She is based in south-central PA and will travel to surrounding areas.
Not Just a Kiss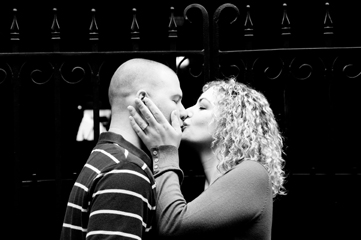 Now go mill about the lawn (fine, the comment section), hanging out with your fellow concert goers and chat about what you just heard and saw.