Concert on the Blog: Max Klau Band
Welcome to the third concert on the blog. Get your lighters ready because here we go…
[For those who are new: Concert on the Blog Series is a weekly post highlighting a musical, theater, film, or comedy performance. It's also a chance for viewers to communicate with the artists via the comment section on the post. In other words, it's free publicity for artists and it's free enjoyment for viewers — a win-win for all participants. Please click here to find out how you can have your performance featured.]
Melissa the Emcee: We've heard quirky and we've heard mind-expanding, but it's time to focus on some good, old-fashioned folk rock.  This band is the embodiment of the outdoor, evening concert.  The sort where you throw a picnic blanket on the ground and lie around with old friends, listening to jeans-and-chucks rock-and-roll.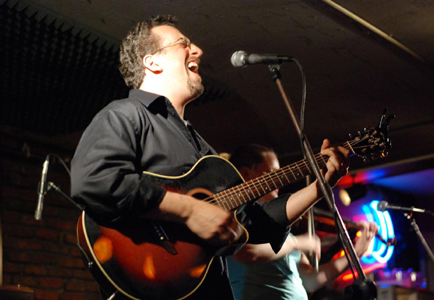 There's a story behind the song: He wrote it in 1997 as a lonely, single guy living in Israel, and "I actually used it to propose to my then-girlfriend Beverly almost a decade later.  MKB had a gig at the music venue where Bev and I had our first date — a club called the Middle East in Cambridge MA.  She was there, along with a whole lot of friends and family, and when the time came, I hopped off the stage, got down on one knee, and sang the 'Will you marry me?' lyric."
Seriously, hearing that, how can you not get goosebumps?
The beautiful, lilting "Maple Tree" by the Max Klau Band.
[audio:https://www.stirrup-queens.com/wp-content/uploads/2011/04/07-Maple-Tree.mp3]
The band is actually currently holding a contest that you can read about on their Facebook page.  They've launched the "Best Musical Proposal Story" competition.  Go send in any true stories of ways that someone used music to propose marriage, and whoever submits the most creative, moving, and romantic story will win a free CD.
More about the band: "In just over two years of playing the clubs of Boston, MKB has built an enthusiastic base of fans who appreciate great musicianship, quality songwriting and energetic live shows. Fans love their Dave Matthews Band Alternative/Folk via Van Morrison style. The band has a rare combination of catchy, intelligent hooks, soulful lyrics and musical sophistication that's too good to pass up."
For those in love with the music (and please let them know in the comment section below), you can find them in many places on the Web:
Now go mill about the lawn (fine, the comment section), hanging out with your fellow concert goers and chat about what you just heard and saw.