The Delurkification of You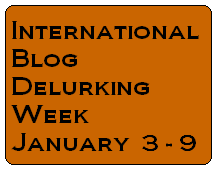 For the second year running, I have managed to remember International Blog Delurking Week BEFORE International Blog Delurking Week was over.  Which, in my world, is a major feat.  You see, the first full week of January has traditionally been International Blog Delurking Week (I'm looking to see how many times I can use the full name in a sentence), and since I am always focused on the Creme de la Creme, I usually forget all other things.  Such as showering.  And packing pants.  And International Blog Delurking Week.
Except that I have remembered, and my reward is that you have to delurk.  I think it's something like … a law.  By which I mean, what is like a law, but the police will not enforce it?
Okay, so if it's not a law, then we can at least all admit that this is worldwide holiday up there with all the other worldwide holidays … such as International Harry Potter Reading Day.  And International Font Loving Week.
So happy International Blog Delurking Week and in honour of this worldwide holiday, please delurk because there is a huge discrepancy between the number of readers in actuality and the number of readers I actually know are reading. Or a tongue-twister like that.
It is fairly easy. Leave a comment in the comment section below admitting that you're here. You can simply raise your hand and meekly admit that you're here with a simple, one-word "here" comment; or you can proudly raise your hand and tell us all a bit about yourself (my preferred method); or you can tell me what type of cookie you'd be if you were a lump of cookie dough (see, I'm trying to make it easy for you by even providing a comment prompt). The point is that I want to know about the people who read me.
And that's all you have to do to celebrate.
Oh!  And the first of what will be a few giveaways for Life from Scratch just went up in the blogosphere.  Click over to win your own copy…