I See Famous People
I'm notorious for being unable to control my verbal diarrhea when I see famous people.  One time, we were in Dupont and we were walking toward Christiane Amanpour and Jamie Rubin on the sidewalk when they parted to allow us to pass between them and I pretty much crapped myself and then told every employee at Kramer's about it for the next hour.
I was at the Helen Hayes Awards because Josh was nominated for one of his plays, and we were at this party when Judd Hirsch walked by.  And unable to control my own body, I pointed at him and screamed, "that's Judd Hirsch!"
Which isn't even the most embarrassing part.  I DID THE SAME THING YEARS LATER TO PAULA DEAN.  I was at BlogHer, sitting by a door, and she walked through it and I screamed, "you're Paula Dean!"  It's like famous people are the reflex hammer and my mouth is an enormous deep tendon jerking out words I don't intend to have leave my mind.
But I'd like to report that I controlled my internal monologue, even though the urge was there to yell out their names, when I met the Sklar Brothers last weekend at the EntryPoint DC performance.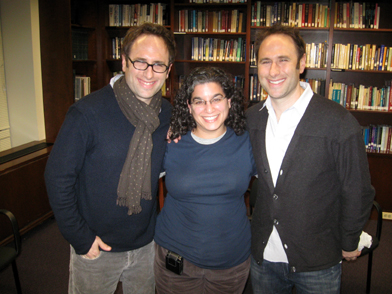 In my head: "YOU'RE RANDY AND JASON SKLAR!"
We went with two other couples and we were all fairly giddy with the idea of being out at night like grown-ups.  We had a great dinner at Commissary (where the Sklar Brothers stopped by our table to say hello pre-performance — so I actually almost crapped myself twice in one evening) and then saw the show (which was hysterical.  If they're ever in your city, you should go out and see them) and then went out to coffee afterward.
Before the show, we stopped into a VIP pre-party for the performance even though I am not a VIP.  I am not even an IP.  I am merely a P.  But I was with Josh, and Josh is a VIP.  And I decided that I wanted a picture with them.
A long time ago, when Josh and I were at Disney World, we kept bumping into this ten-year-old girl throughout the day.  She would scream at her parents, "take my picture!" and then go and pose in front of the ride by placing her hands on her hips and doing a deep lunge.  And Josh commented that one day she'd look back on those pictures and regret that she went through an entire vacation and does not have a single photograph where she is standing in a normal position.
So at dinner before the performance, I announced that when we went to the VIP party, I was going to pose like that with the Sklar Brothers — my hands on my hips, my body in a deep lunge.  And we'd snap the photo, the boys smiling nervously because they couldn't understand why someone would get into this pose.  And my plan was to laugh apologetically and say, "I really don't know why I did that.  Could we retake the picture so I could be in a normal pose?"  And then, when we got ourselves in a normal position again, right before the camera would snap, I fall back into a deep lunge, my head cocked to the side defiantly, the palms of my hands covering their face.  And this would go on and on and on; and dozens of photos later (because in this plan, the Sklar Brothers were game for me to do this dozens of times), I would finally declare one of my deep lunges perfect.  And we'd all go on our merry way.
But as you can tell from the picture above, Josh explained that this wouldn't be amusing — at least not to the other subjects in the picture nor to the people at the VIP party.  In fact, it just might mean that I don't get invited back to another VIP party.  So I controlled my inner monologue AND I controlled my posing ideas.  I stood upright and bit my tongue and tried to appear like I get out of the house, when it is very very rare for me to get out of the house.  One of the terrible perks of working from home.
*******
As we drove home, I mused that I didn't really know why people took pictures with famous people they didn't know.  I mean, it would be one thing if we had emailed prior to that point and had some sort of connection.  But those comedians didn't even know my name and won't remember me thirty seconds after the photo was taken.  So why do we collect these pictures of ourselves with famous people?  To prove that we were there?  To prove that we closed the six degrees of separation between two people and physically stood in each other's presence?
Or is it because we all have a bit of oral diarrhea and instead of shouting out the obvious, we click a picture instead.  Since, for some reason, that's more socially acceptable than screaming, "you're Randy and Jason Sklar!"
Come on, dish.  What famous people have you met?  And did you take a picture?