Life From Scratch
Mary Alice from Ace of Cakes (on Food Network) says, "Life from Scratch and its plucky heroine, Rachel Goldman, is just the right amount of smart and clever with a healthy dose of self-doubt, humor and sass thrown in. This is chick lit for smarter than the average chicks. Melissa Ford has created a clan of characters I can relate to, who make me laugh out loud and hungry for dinner."
Stephanie Klein, author of Straight Up And Dirty and Moose says, "All journeys worthy of anything begin with wine and end with a meal. Life From Scratch does just that, adding heart and laughter to the recipe."
And Sarah Pekkanen, author of The Opposite of Me says, "Melissa Ford's debut is a thoughtful, sensitive examination of the choices that give shape to our lives – and how sometimes, the happiest endings can be found in the most unexpected of places."
Which is just a long and immodest way of saying that Life From Scratch goes on sale this week.  In fact, you can order it right now and people already have.  The image is currently botched on Amazon, and please don't believe the incorrect delivery estimation on the paperback entry (it will ship pretty much instantly, and yes, you will have it before Christmas), but who cares because damn it, my book is on sale.
So imagine having box after box come for everyone else in the house, and then one day, a box arrives and you think that it's for someone else, but then you see your name on it.  And then you see it's from your publisher.  So you open it and see a big stack of your book.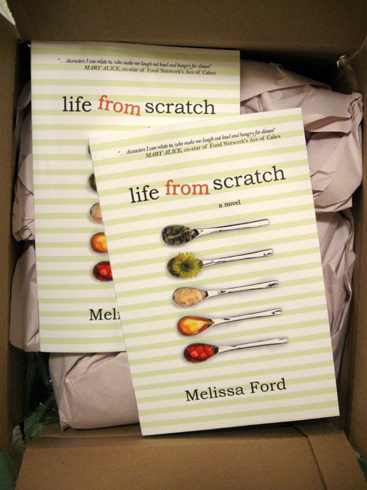 And you stand there, reading your own words and think about how at one point, the book was just an idea you had back in December 2008 while you were walking across a parking lot.  And now it's December 2010, and a publisher liked your book enough that they invested in it, and cultivate it and brought it to life.
So, anyone want to read my new book, Life from Scratch?  You can also get it on Kindle.  And on various other sites and e-book options rolling out soon.  If you do read it, please leave your thoughts in a review on the Amazon page.
I cannot thank you all enough for (1) reading it and (2) being with me — start to finish — through the whole journey.  There is a character in the book, Arianna — a single mother by choice whose son came after years of IVF and loss — and the way she's there for Rachel; that's the way y'all are there for me.  So consider her an amalgamation of all of you.