314th Friday Blog Roundup (Meeting Bloggers Edition)
I'll admit that the wishes made me weepy.  And that while I made my wish on something for myself, I also wish that everyone else's wishes come true.
*******
I started running again this week which has made me stupid tired.  You know that kind of tired where you have to reread every sentence several times because you can't remember the first part of the line by the time you get to the second independent clause?  By which I mean please excuse any typo-s in this post.
I was so worried to oversleep and miss my first day running that I woke up four times in the middle of the night to look at the clock.  And finally, at the godawful hour of 6 am, I trekked down to the basement to run indoors. (Please, I wouldn't walk outside to the mailbox at this hour in my neighbourhood much less take a leisurely jog.)
And there was a cricket.
Okay, maybe it wasn't a cricket, but it could have been an emaciated, red cricket.  So I ran upstairs and woke up Josh and told him about the cricket as if the house were on fire and he came downstairs and saved me.
And then I went running.
And discovered that I had gained four pounds in the five month interim between running routines.  I have felt the extra weight and it has made me miserable, so I decided to do something about it.  In addition, I went on a walk with the twins this week, and in the middle of the walk, I started having chest pains.  By which I should clarify that it was probably indigestion, but I started thinking about heart attacks and properly freaked myself out.  So, yes, running again.
On Wuhu Island.
Which is why, if I'm a little slow on the uptake for the next few days, you'll understand that it is the fact that I'm still trying to make it work where I can watch Colbert and wake up at 6 am.
Like I said, stupid tired, emphasis on the word stupid.
*******
I got to meet up with a bunch of bloggers while in Boston last weekend.  Which rocked.  On Friday night, I had dinner with I Won't Fear Love; Henry Street; Ultimate Journey; and Slaying, Blogging, Whatever.  So first, I got to eat dinner with these funny, sassy, smart women.  I seriously had no idea how much time had passed, but we were down there in the empty restaurant for more than three hours.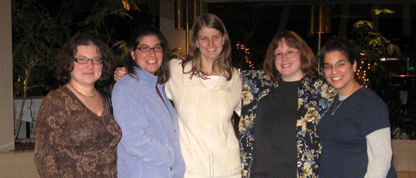 Then, on Saturday morning, I got to meet Keiko and her husband at the conference.  She is just as organized and smart and funny as you'd expect her to be from her blog.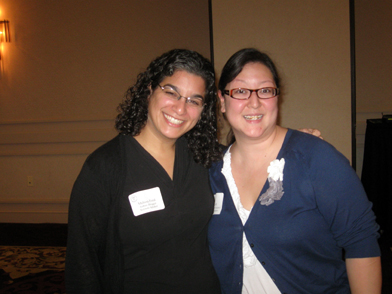 And then, perhaps the creme de la creme moment, I was sitting at this table and I looked up and a few feet away was Natalie.  Which was 20 kinds of emotional and I feel so lucky that I got to hug her in person.  I wasn't expecting to see her, so it was amazing to look up and see here there.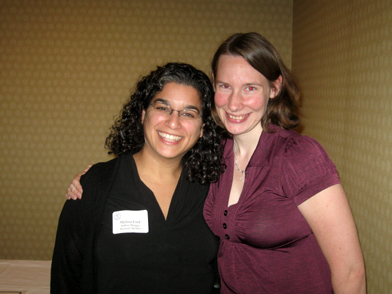 (This is me looking stunned)
Plus, the conference itself was amazing.  New England Resolve is so organized, and their executive director, Rebecca Lubens, who was heading the conference is this erudite, kickass woman who brought together a conference combining information with support.  The conference was like finding test answers inside a chocolate bar.
That last line made perfect sense to me with my lack of sleep.
*******
Instead of the Weekly What If: tell me which bloggers you've met this year (in 2010).  Or which bloggers you want to meet in 2011.
*******
And now, the blogs…
An Unwanted Path has a bleakly honest post about how she now doesn't wish for a pregnancy insomuch as she wishes to not have another loss.  I love this thought: "But … I guess I'm grasping here. But, not getting pregnant could be a blessing in disguise. And maybe, just maybe, it means something. Or it could just be another sad mind-fuck on the path of infertility."  It's a brief, beautiful, sad read.
From IF to When has a post about what fertile women don't know.  It's a post that works best with the least amount of description.  It is something you need to read; to experience.
I Spy a Family has a series of posts for National Adoption Awareness Month and her post on fear was particularly well-written.  I especially love the last line: "If I haven't done that, I would've missed out on the chance to parent the two people I love most in this world."
Lastly, in a heartbreaking week, Hold My Hope has a post about needing a diet for the soul rather than the body.  She explains that she knows how to manipulate her body, train it, lose weight, gain weight.  What she can't do is exercise that control over her emotional cravings.  I thought the analogy and the question was simply brilliant, and I wish I had a good answer to give.
The roundup to the Roundup: damn, running makes me tired. I got to meet a bunch of fantabulous bloggers.  Who have you met/who do you want to meet? And lots of great blogs to read.