Let's Do the Time Warp Again
I was born to be Magenta. Seriously. It is the one benefit to having my mop of brown curls; you brush it out, tease it up, smear on some lipstick, find a French maid outfit (make sure you wear a black bra underneath and not your normal beige one), and head out to Rocky Horror.
And for a long time running, I was Magenta. You know, like those kids who stand in the front of the theater and act out the movie, helping the audience to call out the right lines. I was pawed by more Columbias and laughed evilly with more anemic-looking Riff-Raffs than I care to remember.  For your viewing pleasure, a 16-year-old Melissa with her hair all teased out a la Magenta on the way to the Key Theater in Georgetown*: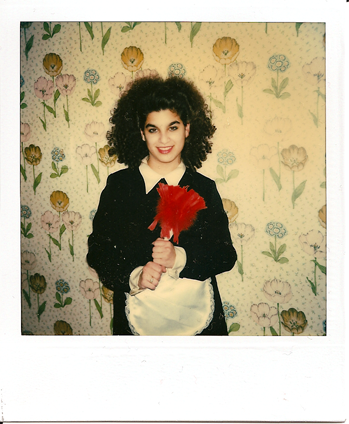 Which is why I was so excited to find out that Glee is covering Rocky Horror tomorrow night (October 26th) as their Halloween episode.  Forget the fact that I have never even seen Glee.  I was so excited that I wrote it into my datebook so I wouldn't forget to Gleek out.  Isn't that what the kids call watching Glee?  Gleeking out?
My feeling is that there is no such thing as bad Rocky.  I've seen a few stage productions of it and I've seen it in plenty of different theaters so I've encountered numerous "casts" that way.  And while none touch the pure joy of watching Tim Curry or Susan Sarandon, it's all good.  So I'm excited to see Glee tackle it too.
Josh even endured listening to the soundtrack this weekend in the car while we drove downtown.  He must really love me.
* The odd line you see around the photo is the fact that it is a Polaroid (oh my G-d, it makes me feel so old to think that we had cameras where you couldn't even make a second copy of the photograph much less put it online).