The Day the Doors Didn't Open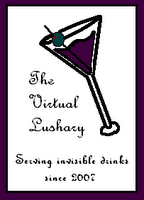 There was no Virtual Lushary in August.
For the first time in over three and a half years, we forgot to meet here and catch each other up.  I didn't remember until September 1st, one day too late to squeak an August meeting under the wire.  And then I let it go until now, wondering how I forgot this ritual.
Was I busy — yes, but there have been plenty of other times when I've been busy and noted that the 15th is rolling near and I'd love to touch base and hear how everyone has been.  I was, apparently, at the National Aquarium taking pictures of jellyfish, or I was in Brooklyn, searching for the ghost stroller.
So … hello.  Creakily pushing the door open and hanging out the "please come in" sign on the door.  Who will show and let us know how they've been?
As always, it has been about two months since we met, bitched, cried, comforted, and caught up each other on our cycles and lives. Pull up a seat and I'll pour you a drink. Let everyone know what is happening in your life. The good, the bad, the ugly. My only request is that if a story catches your eye, you follow it back to the person's blog and start reading their posts. Give some love, give some support, or laugh with someone until your drink comes out of your nose.
I have a ton of assvice in my back pocket and as a virtual bartender, I will give it to you unless you specifically tell me that this is simply a vent and you do not want to receive anything more than a hug.
So if you have been a lurker for a while (or if this is your first open bar), sit down and tell us about yourself. Remember to provide a link or a way for people to continue reading your story (or if you don't have a blog–gasp!–you can always leave an email address if you're looking for advice or support. If not, people can leave messages for that person here in the comments section too). If you're a regular at the bar, I'll get out your engraved martini glass while you make yourself comfortable. And anyone new, welcome. I'm glad you found this virtual bar.
For those who have no clue what I'm talking about when I say that the bar is open, click here to catch up and then jump into the conversation back on this current post.
So have an imaginary cocktail and tell us what is up with your life.