Galleys are Here
I got a copy of the galleys for Life from Scratch in time for the book event tomorrow in New York. The book isn't slated to be released until December 1, 2010 (just in time for Christmas, hint hint), but Mediabistro chose it for its book club, and I'm doing a reading in New York tomorrow night.  The event is free, though you do need to RSVP.  And if you are not in the city, I will hopefully post pictures/video and such on the book site.
I wrote the book, so I obviously knew everything that was contained inside, but I still started sobbing when I saw the dedication line.  It was around the time that I wrote this post that I realized the right person to receive the dedication.  I walked downstairs and asked Josh if he minded if I dedicated the book to someone other than him — the obvious receptacle of all of my thanks.  But he understood completely, and agreed that there was clearly only one person who should receive the dedication.
My grandmum was alive when I got the first book deal and she even got to take a copy of my book around her nursing home and try to convince the other 90-year-old women that they needed a book about infertility (you know, just in case they were considering using donor eggs).  She died before I sold this book last spring, a book that would have been much more up her alley (she was a spicy lady, and she would have clapped through the sex scenes).  Every time I called her, she asked me if I had sold another book and she asked me when she was going to get her commission for being my cheerleader.
The book is dedicated to her.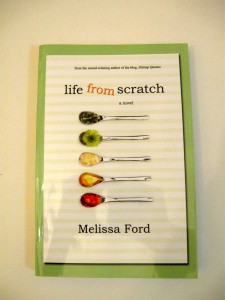 Front of the galleys (the real book will look more polished.  These are just for review purposes)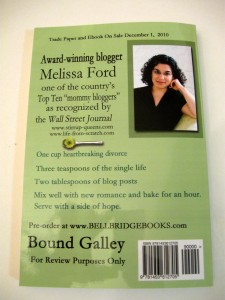 Back of the galleys
Keeping all of you in my pocket during the reading tomorrow night.  I love it when the blackberry buzzes while I'm out.  It makes me feel as if one of you is just rubbing my leg for a moment to say "hello."