302 Friday Blog Roundup
The Wolvog has his own email account, which came after much begging (it is only used for family and fictive kin).  He needed it, you see, to set up his private blog — a space that he picks at every day, calling it his "work."  He writes music with Garage Band and then takes these crazy-ass pictures and combines them into these stop-action videos (he is very, very into gamelan at the moment).  Sometimes, I don't even know what I am looking at.  He is entering kindergarten.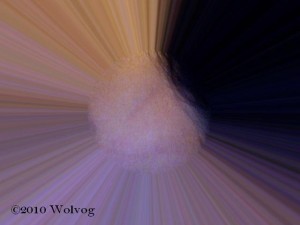 What is this?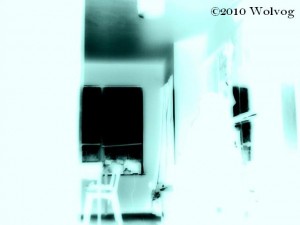 How the Wolvog conceptualizes our kitchen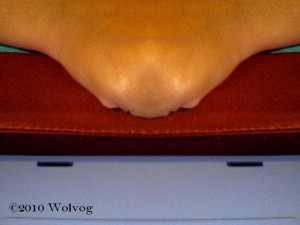 This picture made me queasy; as if I was looking at something out of a Margaret Atwood novel … oooh, so apropos.
The computer is set up so I can watch what he's doing while I'm cooking, and this week, I was peering over his shoulder when I said, "are you in Daddy's email account?"  You see, down the left sidebar were a series of folders, much like Josh's account, with all of them neatly titled from "personal" to "car."
"I'm in my email," he insisted.
I motioned to the sidebar and said, "what is that?"
"They're my folders," he explained.  "'Car' is for when I receive an email that mentions a car.  'Stories' is for when someone tells me a good story.  'Shoes' is for when Grandma sends me an email telling me that she is going to make me try on shoes."
But how did you do that?
The folders, with the first letter neatly capitalized, alphabetized for good measure — that is the child I always wanted to raise.  I mean, creativity is well and good, but organization skills?  Taking the time to capitalize the first letter and keep it consistent?  That is love.
*******
The Weekly What If: would you rather be super creative, blowing people's minds with your brilliant ideas, but be terribly disorganized, unable to find your keys or even your pants when you pull them down to pee — OR — would you rather be hyperorganized, always knowing where everything is, but leading a fairly straightforward, rational life?
*******
IComLeavWe begins this weekend on Saturday.  I will be slow to add new people to the list over the weekend because we are going to be ensconced in some offline activities.  Therefore, be patient.  You will get on the list if you sign up before 11 p.m. EST on Saturday.
*******
And now, the blogs…
Tales of Rachel has a post called "Choice or Circumstance" that I thought was brilliant.  She asks a tough question: is she infertile if she has a non-functioning uterus (and permanently impaired her fertility with tubal ligation in order to remove the chance of a pregnancy she should not attempt to carry) but never tried to have a child?  She finds herself unable to relate to those who have chosen to be child-free, nor feels she belongs with those who have tried for years to get pregnant and have now resolved their infertility by living child-free.  She writes: "I'm stuck somewhere between choice and circumstance.  And wondering, really wondering, if anyone out there understands that feeling."
Storm in my Tea Cup has a post about coping skills.  She writes: "I need some coping skills.  Perferably, ones that don't involve 2 hour naps, lots of salt or anything chocolate covered."  It is just an honest, simple post.
Attempting to Love Life Without Her has a post about all the things she didn't know before she lost her daughter.  It is almost poetry, and you are lulled into a sigh by the ending.  It's really beautiful.
Lastly, HolyMoly Toledo(s) has a post about reaching out to a woman that she suspected had miscarried.  You need to click over to read the whole post in order to understand, but it is about the small clues that only someone infertile would notice.
The roundup to the Roundup: email folders and trippy pictures.  Answer the Weekly What If.  IComLeavWe begins this weekend.  And lots of great posts to read.