Jezebel and the Daily Show
Last week, I wrote my take on the Jezebel/Daily Show showdown over at BlogHer.  This morning, the New York Times posted a story about Jezebel titled, "The Blog Jezebel is Not Afraid to Pick a Fight," though the irony in the cries of sexism in the hiring practices of the Daily Show is reflected in the Jezebel newsroom photos.  The first shows Jessica Coen standing in front of several male employees on computers.  The second one shows the mostly male staff of Jezebel at work (helpfully labeled by Josh):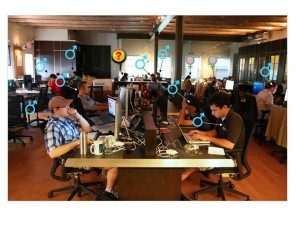 Where are the women of Jezebel?  Why are we mostly seeing men in the pictures?  Is Jezebel engaging in…gasp…sexist hiring practices at a WOMEN'S WEB SITE?
But the fact is that just as you can't get the whole story of what is happening at the Daily Show simply by speaking to ex-employees and a few people who haven't been hired by the show, you can't know how many women or how many men or how important any individual's job is to the whole of the product simply by examining the tiny sliver of reality contained in a photograph.  No, I don't believe that Jezebel engages in sexist hiring practices any more than I believe the Daily Show has it out for women.
But I do think it's a series of interesting photos considering the accusations of the blog.