291st Friday Blog Roundup
I am going to two parties this weekend.  The first is comprised entirely of people I have known for at least eleven years.  Some for much longer than that.  We all knew each other before we met our partners and got married and had children.  It is a group that is entirely entrenched in history and we have found over the years that our roots often inadvertently entwine in the past with shared people we knew even before meeting each other.
The second is comprised almost entirely of people I know via blogging and one old camp friend who I re-met via blogging (who is different from the high school friend I re-met via Twitter–hi, Thea!).  For some, I know the intimate details of their life, but have never seen them face-to-face.  Others started out as online friends and then stepped through the computer screen.
It's a strange continuum of old and new, but in so many permutations that old and new blend together on one extended plane.
Oh yes, and expect pictures, at least from the second one.
*******
Speaking of meeting bloggers, last weekend, I got to meet Flicka, Becky, and Niobe, along we other TOOTPUers who were not drenched in vomit and could therefore get together for breakfast.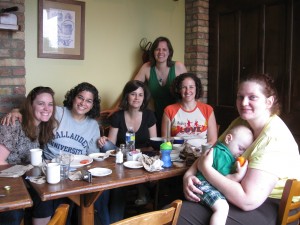 *******
The Weekly What If (courtesy, this week, of Calliope): What if Hollywood called and wanted to turn your blog into a movie like Julie and Julia. You get final casting approval. Who would play you?
I don't know who would play me, but I'd totally get the cast of Brothers & Sisters to play my actual family.
*******
And now, the blogs…
Life from Here has a post about adoption on the lead-up to her daughter's first birthday.  Where her life was last year vs. where her life is this year.  She is thoughtful and eloquent and raises wonderful points and then meets them with possible answers.  She is most profound when she speaks about ethics and how they navigated the pre-placement months together.  I found myself nodding a lot while reading.
Relaxing Doesn't Make Babies has an absolutely brilliant post about the worries that have been hounding her since Kate's birth.  I love the way she describes that running anxiety: "it's like my brain decides to suddenly worry about everything at once."  The post flits from fear to thought to fear, and you almost enter Natalie's brain, feeling a bit like that anxiety fluttering by like a pack of butterflies.
Waiting Lisa has a post explaining why holiday weekends are the hardest weekends and relates it to the idea of attending a family reunion.  She explains, "Parties like this are big check-ins where we are all supposed to share what has happened with us since we last got together. I have nothing. The only thing that has changed is that I'm missing organs."  It's a beautiful, aching post and you need to read it in full.
Lastly, Infertile Newlywed has a post about her husband's diagnosis and the conversations that came afterward.  It is a simple post about the physical and financial realities of infertility informing the emotional side of infertility.  It is about those all-too-familiar planning conversations; the ones that go above and beyond what someone trying unassisted needs to consider just to get to the starting gate.  It's a wonderful post.
The roundup to the Roundup: Partying this weekend.  Apparently partied last weekend too.  Answer the Weekly What If.  And lots of great posts to read.