Truth, Lie, and Bounce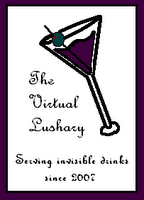 A few weeks ago, BlogHer asked people to add a strange fact about themselves to their profile.  I added my fear of mayonnaise (you didn't know this because you're a new reader?  Deathly afraid of mayonnaise.  As in, I don't even walk down that aisle in the food store).
After that was done, BlogHer rolled out the second part, which is an online scavenger hunt.  Knowing it would be too difficult to have people comb through the 44.8 milli0n blogs on BlogHer (I may have made that number up.  But it's a lot of blogs), they made the game an easy guess between two choices.
But the fun part was reading these crazy facts about random people (one person wrote her first kiss was with Scott Baio, another admitted that she has played poker with Brad Pitt more than once, and another was a standardized patient for hospitals).
So, in honour of that game, I am proposing my own game at the Lushary.
Here's how you play:
Leave a comment below telling either a truth or a lie about yourself along with your monthly update about yourself (

don't forget to post about yourself–last month the first few people posted mondegreens and then didn't write anything about their own month

).  It has to be one or the other, not a partial truth or a sort of lie.  If you're going to lie, make it a good one.  And if you're going to tell the truth, make it a damn fine one too.
Make sure you enter the url for your blog if you have one when filling out your comment so people can find your blog.
Either go back to your blog and publish a brief post about your truth or lie, expanding on the story OR if you don't have a blog (or don't want to write a post), wait at least two hours to return and write your answer in the comment section below (hence the "bounce" in the title.  You will either have to bounce over to their blog to find out whether it is a truth or lie, or bounce past the other comments to find their follow up).
Make sure you follow up in some way.  Hearing the larger story or finding out that it was just a damn good lie is the fun part.
Keep self-score at home seeing how many you get right.
And don't, don't, don't forget to tell us what is happening in your life too.
As always, it has been about a month since we met, bitched, cried, comforted, and caught up each other on our cycles and lives. Pull up a seat and I'll pour you a drink. Let everyone know what is happening in your life. The good, the bad, the ugly. My only request is that if a story catches your eye, you follow it back to the person's blog and start reading their posts. Give some love, give some support, or laugh with someone until your drink comes out of your nose.
I have a ton of assvice in my back pocket and as a virtual bartender, I will give it to you unless you specifically tell me that this is simply a vent and you do not want to receive anything more than a hug.
So if you have been a lurker for a while (or if this is your first open bar), sit down and tell us about yourself. Remember to provide a link or a way for people to continue reading your story (or if you don't have a blog–gasp!–you can always leave an email address if you're looking for advice or support. If not, people can leave messages for that person here in the comments section too). If you're a regular at the bar, I'll get out your engraved martini glass while you make yourself comfortable. And anyone new, welcome. I'm glad you found this virtual bar.
For those who have no clue what I'm talking about when I say that the bar is open, click here to catch up and then jump into the conversation back on this current post.
So have an imaginary cocktail and tell us what is up with your life.