Dispatches from the Hill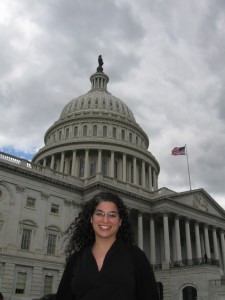 This is how I look a few minutes after speaking at the Capitol.  Look at how my mere presence makes the sky look ominous and stormy.  Look out America–infertile people are teaching Congress a thing or two (or maybe even three).
*******
Truman Capote came a'knockin' at my internal door 10 minutes before I was set to leave, adding a new layer to the day.  Not just emotionally or logistically, but is also changed the nice outfit I had chosen for the occasion.  Damn you, Capote, showing up with your Justerini and Brooks scotch (never J&B, please) and cigars!  But we rolled with it and dressed in black and headed downtown.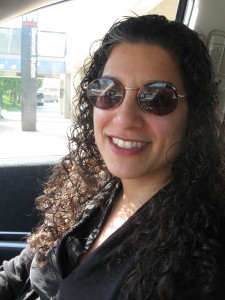 Moments before I leave the sweet bosom of our car and brave the wild Metro.
*******
I can't really describe how powerful it is to walk through the hallways at the Capitol and realize not only the history of what has happened in that building in the past, but my G-d, what is happening in this building right now.  And that I was sewing myself into that history by participating.  That it happens every day–ordinary citizens making requests of our government officials and our government officials listening to them.  Not always doing what we wish, but giving us their ear if we write, call, or sit down with them face-to-face.
That's a pretty amazing thing for an enormous country.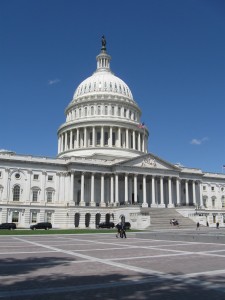 Though I've spent my entire life in this area save for a few years here and there in school, I don't think I've ever been inside the Capitol.  On the steps to watch the fireworks–sure.  Across the street, using the Library of Congress–too many times to count.  But I can't even remember a school field trip to the Capitol.  So I think, the most overwhelming part for me, was to be inside that building.
As was seeing real live senators and representatives.  Which again, shouldn't be that momentous since I grew up in this area and went to school with the children of real live senators and representatives.  But now I was seeing them in their natural habitat–sort of like seeing a lion on the savannah vs. seeing a lion at the zoo.
Even if you can't travel to Washington, D.C. to physically be in the Capitol, there is a way (beyond emailing or calling your representatives yourself) to turn your words into action inside the Capitol: participate in Project IF.  I have hinted before that there will be more to this project than NIAW and the Night of Hope award.  Trust me on this.  You have at least two more days to participate (May 1st, 11:59 pm EST is the cut-off).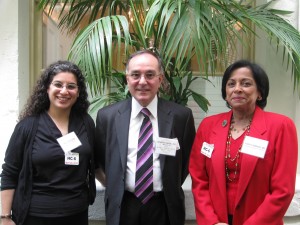 The three speakers: Me, Dr. Maurizio Macaluso (Chief of the Women's Health and Fertility Branch of the CDC) and Dr. Rafat Abbasi (doctor at Columbia Fertility Associates)
*******
I felt like you were all with me in spirit yesterday, and I was so touched to read through the comments once I got home.  I actually left my blackberry on vibrate and stuck it in my bag, and placed my bag against my foot.  So I got this buzzy reminder every few minutes that I am connected to something so large–a support system, an electronic grassroots system, a group of kick-ass brilliant ladies and gentlemen.
I was asked yesterday by someone there if I felt nervous coming out so publicly about my infertility.  And I was nervous about a lot of things, but not admitting that my body doesn't work properly and I need help to build my family.  It's not a fact about myself that I'm proud of, but it's something that is, and when we talk about it, we help others to see a larger world than their own experience, we help people get to a doctor before they run out of time, we help people feel less alone who share the same problem and feel isolated from the norm around them.
When it was done, all I wanted to do was sleep.  I skipped breakfast and missed lunch and didn't eat until 3:20 and I think the lack of food combined with Truman's visit combined with the huge emotions of the day all made me crash by 5 pm.  So I apologize for the lack of LFCAs this week and can tell you that an enormous one will be up tonight.
I'll leave you with this while I wait for the video and pictures taken at the Capitol to be sent my way once the Resolveniks recover.
4 minute clip from Fox News where Barb Collura spoke about the congressional briefing and NIAW
And the first coverage that I've seen from the newspapers on the briefing: The Washington Times.