Ungaming and Comment Chaining Part Five
Directions: answer the question in the comment section. Then leave a comment on the blog of the commenter directly before you (so it's a chain. #2 comments on #1, #3 comments on #2, etc). The first person who comments gets a free ride and does not need to leave any comments. The last person who comments gets…screwed. My answer is below the picture.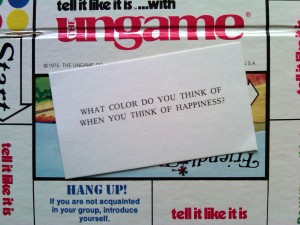 In case you can't read it, the card states: WHAT COLOUR DO YOU THINK OF WHEN YOU THINK OF HAPPINESS?
For me, it would have to be orange. Or a deep red. Or an orange-y yellow.  Something bright.
What about you? And if you can give us the html colour number, all the better so we can check your choice out ourselves.