Green Beer and Ill Communication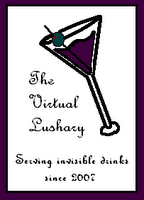 The Wolvog woke up Monday morning and informed us that his new name was a garbled mess that closely resembled Lucifer Dirty.  This is not the remarkable part because he often changes his name.  Last month, he asked us to call him by a single moniker: Shimps.
We tried to understand the new name and repeated what we heard several times, each time sending the Wolvog into a new fit when we didn't pronounce it correctly (Lucifer Ditty?  Joosifer Dirty?  Chance Barbie?).  The boy was sobbing into his pillow over the idea that his parents couldn't say his new name, the only name he would now have for the rest of his life until he changed it again next month.
When I picked him up from school, he told me in a voice reeking of incredulity that no one called him by his new name at school.  "Did you tell them your new name?" I asked.  No, he hadn't.  But it was just that powerful a name that he assumed that somehow, it would enter their minds via telepathy.
I finally asked him to spell it and with a few stops and starts, he finally settled on this:
Jancefer Birdie
"Google it," he told me.  So I did, and Google told me that not only was the full name not found on any page, but Jancefer alone was not found either.  He smiled this secret, pleased smile, the sort of smile an evil dictator does when they've seen a particularly appealing beheading.
Later in the evening, I finally found the source of his new name, a Google app for the iPhone called Let's Golf where the game shouts out in the promo: "chance for a birdie!"  Which reminded me of a friend who had a younger brother who named his goldfish Kimber because that's what he thought people called out when they chopped down a tree.
But why explain that and spoil it?
I am thrilled that my son, Jancefer, has picked up my inability to hear things correctly (I am the Queen of the Wrong Lyric).
In addition to catching us up on your life, tell us your best mondegreen.
And happy almost St. Patrick's Day (unless you're reading this on Wednesday and in that case, happy St. Patrick's Day)!
As always, it has been about a month since we met, bitched, cried, comforted, and caught up each other on our cycles and lives. Pull up a seat and I'll pour you a drink. Let everyone know what is happening in your life. The good, the bad, the ugly. My only request is that if a story catches your eye, you follow it back to the person's blog and start reading their posts. Give some love, give some support, or laugh with someone until your drink comes out of your nose.
I have a ton of assvice in my back pocket and as a virtual bartender, I will give it to you unless you specifically tell me that this is simply a vent and you do not want to receive anything more than a hug.
So if you have been a lurker for a while (or if this is your first open bar), sit down and tell us about yourself. Remember to provide a link or a way for people to continue reading your story (or if you don't have a blog–gasp!–you can always leave an email address if you're looking for advice or support. If not, people can leave messages for that person here in the comments section too). If you're a regular at the bar, I'll get out your engraved martini glass while you make yourself comfortable. And anyone new, welcome. I'm glad you found this virtual bar.
For those who have no clue what I'm talking about when I say that the bar is open, click here to catch up and then jump into the conversation back on this current post.
So have an imaginary cocktail and tell us what is up with your life.