279th Friday Blog Roundup
The Weekly What If: What if you could take one physical characteristic (your eye colour, your crooked nose, your flat ass, your flat stomach) and put it on another person.  Would you be kind and put your best trait on a friend who struggles with her love of the same body part?  Or would you make someone walk a mile in your shoes by placing your least favourite trait on the body of a person who needs to get a clue (hey, Kate Moss, welcome to my stomach flab post IF drugs)?
*******
I designed a onesie for a gift with HereWeGoaJen via her Little Star Shop.  It came out exactly how I pictured it in my head, the person loved it, and it was so damn easy.  Her stuff makes great gifts and is definitely priced too low (though don't raise your prices yet because I still have more gifts to get!).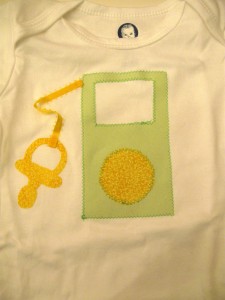 Just saying if you need a gift too.
*******
Even though I haven't seen pictures of Corey Haim since I religiously bought 16 magazine at age 12 (with the exception of the scintillating spread on the two Coreys in People magazine last year detailing their feud), I was really sad when I heard that he died this week.  I flip flop between my favourite Corey Haim film being Lucas and The Lost Boys.  We quote more often from The Lost Boys in our house and we refer to it as Our Twilight (poor Wolvog often has us say to him a la Edward Herrmann, "Don't ever invite a vampire into your house, you silly boy. It renders you powerless."), but we also are prone to clapping at a very slow pace and building up to a normal clap like the end of Lucas.
Corey Haim was somewhat emblematic of a certain time period of films–the Breakfast Clubs and Pretty in Pinks and Lucas and Lost Boys.  What was your favourite film from that time period and which movie star's picture hung in your locker?
It was Johnny Depp for me (21 Jump Street era) and Rob Lowe (especially in Class).
*******
And now, the blogs…
One Eye Open and Dreaming has a post about how different your life is from how you pictured it.  It is about knowing when you are done with family building and how that end might come at a different place than you pictured it when you started trying to have that first child.  She writes, "I don't know what I am. Crazy? Ungrateful? Selfish? A friend told me that if I still think about doing another cycle then I'm not done and there's nothing wrong with that. I sometimes wonder if she's right.  I definitely didn't expect this to be a part of my life."  It was simply what I needed to read this week along with all of your comments on my post.
I was very moved by this post from Crazy Heart Stuff.  She explains, "As I trudged through the soul-sucking experiences of infertility and recurrent loss, I couldn't see a light at the end of the tunnel.  I'd get frustrated when I read a blogger had achieved their dream of a baby, then still didn't seem happy.  I am that person.  And for that, I am so so so sorry."  It is a post about struggling with depression and anxiety after infertility and it's an important read for anyone experiencing this too.
Baby, Borneo, or Bust has a damn good story about her husband's Valentine's Day surprise.  Can't say much more than that or it will ruin the ending.
Awful But Functioning has a post that made me cry about a wish cloud and worry dolls.  It is about magical thinking and reality, about letting our children know that we worry too balanced with giving them a cushioned world.  I love her musings on the word "expecting."  It's a post that meanders through various thoughts, all beautiful, all heartbreaking.
Lastly, Hoping for Another Lovebug has a post about the infertility hangover.  She explains, "I feel as though I've been down for so long that I'm not sure how to be up again…The infertility hangover is more about the lasting effects of the all-consuming, constant depression that became a way of life during all the years we were trying to have another baby."  It is an amazing post that I think everyone should read–run, don't walk, your clicking finger over to her blog–and it's just as much explaining how she got into this funk as explaining how she plans to get out.
The roundup to the Roundup: Answer the Weekly What If about body parts. Jen makes good gifts. Whose picture graced your locker? And lots of great blogs to read.