There, But For the Grace of G-d, Go I: Dispatches from Snowmageddon Part Four (Giveaway Edition)
Because I know some of you have been waiting for this (I'm assuming you care because you've asked about it.  Though perhaps you were just being polite?), this is the post that contains the yearly Purim basket giveaway.  But first, you need to read my blatherings about snow.  Sorry about that.  Snow has become my Moby Dick.
*******
Like the aftershocks of a major earthquake, the snow keeps rolling in, with the next storm promising accumulation once again.  The first reports were five inches, which felt like a puddle in the face of the 30 inches that came over the weekend.  Something small we could jump over if we didn't have this enormous flood of snow standing in the place of somewhere to land.
Then the reports started saying eight inches, 10 inches, and now, there are reports of 20 inches, with high winds which will likely knock back out power to the 200,000 people who just got their power returned.
We were lucky in that we escaped the power outages the first time around–truly, there, but for the grace of G-d, goes our house.  Which is a saying I somewhat hate because I don't believe that G-d is blessing us more than my parents who were without power for a few days.  Or Amalah who braved the cold for several days before having to move into a hotel.  But we seriously felt like we dodged a major bullet with this last storm.
On Saturday night, I was crying over the fact that I had so much to get done this week and now no time to do the work.  But now facing another huge storm, another entrapment in our house, another possibility of power loss and freezing temperatures, the idea of articles and blurbs going unwritten seems like…well…a tiny puddle.
It's a little like that old Yiddish folktale which has the rabbi suggest to the complaining man that he fill his house with all his farm animals and once life hits a crescendo, tells him to remove all the farm animals and life returns to the small problems which don't seem that enormous now that the family has seen just how heinous it can be to have a goat bleating in their ear every ten minutes.
I'm writing this–by the way–before the storm comes.
*******
We spent yesterday preparing for the next storm, which felt a little like a poorly made sequel.  A sequel that's a little thin, that lacks the sparkle of the first film.  The shelves at the store were understocked, but Josh still attempted to gather everything I could possibly need for Purim baking.  If we don't lose power, the plan is to make at least half of the mishloach manot baskets.
While Josh went from store to store collecting up jam for power-outage-peanut-butter-and-jam sandwiches and a container of skim milk for cold cereal, the ChickieNob, Wolvog and I curled up on the sofa with a blanket and returned to reading Charlie and the Chocolate Factory.  We're on the part where the family is starving and Charlie finds the dollar bill, purchases the candy bar, and finds the last golden ticket (hope I didn't spoil that for anyone, but the title is Charlie and the Chocolate Factory so you have to assume he makes it through the gates at some point).
"Actually," I said, connecting the book to our weekend discussion on socioeconomic imbalance in the universe, "you know how we were talking about imbalance on Saturday?  Well, the Bucket family is sort of a good example.  You know how we have enough to eat and a warm house and toys to play with?  Does Charlie?"
Hence forever cementing my identity as Commie Mommy.
But it led into an excellent line of questions ranging from why doesn't Mr. Bucket get a different job (because jobs aren't always easy to come by) to why doesn't he just make more money (because they only pay toothpaste top screwers that much money) to why doesn't someone in town HELP THE FREAKIN' BUCKET FAMILY?
Which is what I hoped they would ask.  So I lowered my voice, as if I was about to reveal the secret to how to get a lifetime supply of chocolate, the location of the last golden ticket, and they brought their heads in close to hear me.  "There are people in our community who are just like the Bucket family.  And part of Daddy's job is to take care of those people.  He makes sure that elderly people have a hot meal to eat for lunch and he oversees the building of homes and shelters for people in need and he helps run clothing drives.  So that's why it's okay for Daddy to go to work even though he misses you when he's downtown.  Because he helps a lot of people.  And that's why you shouldn't yell at me when I'm baking for the shelters as part of one of his projects and tell me that I'm the worst mother in the world because I'm not leaving the chocolate chip cookies for you.  Just saying."
It left them with a lot to think about the rest of the day.  Which is good because we'll probably lose power and only have conversation to keep us occupied for the next few days.  And truly, it's there, but for the grace of G-d, goes our family and I am always mindful that there is a very thin wall between those with enough and those without.
*******
As long as we have power, I am going to start baking and sending out my first round of mishloach manot baskets.  The idea behind mishloach manot is to send out treats so no one is without dessert after the Purim feast.  It's a recognition that not everyone has money for extras, but everyone could use some sweetness in their life (and on that end, not everyone has my mad baking skillz so this is to save a person from Pepperidge Farm).
It is my favourite thing I do all year and we have a great theme planned (last year, in honour of Obama's inauguration, the theme was "Yes, We Can(dies)!"), but you'll need to win the basket to see it.
I can tell you that in the baskets thus far (and whoever wins can tailor this to their tastes/allergies because we're already doing a sugar-free basket, a nut-free basket and an egg-free basket for other friends so why not pile on the substitutions?):
Sweet-and-salty butter pecan cookies
Hamantaschen (black cherry or raspberry)
My infamous chocolate chip cookies
Homemade oreos
Maple toffee and vanilla latte toffee
Chocolate-covered peanut butter crisp
And whatever else I dream up between now and mailing the packages.  I'm not going to be modest–people tell me that my baking and candies are fantastic and while they may be lying, they have inflated my culinary ego.  This basket is going to rock.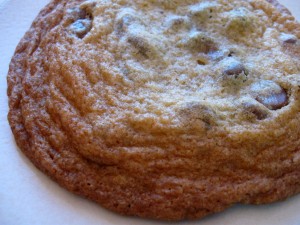 The baskets are for our friends and family, but we also make one every year for the lovely people of the Internets and it's yours to win.  Here's what you need to do to enter the giveaway (and you can enter as many times as you like this year):
Leave a comment below (yes, a box full of candy for the low low price of one comment!)
Tell me where you left a comment already today–and feel free to leave, write a comment somewhere, and come back.  Please put the name of that blog and a link to the post in the comment.  And say something nice about that person's post.  And no, commenting on this post doesn't count for where you've left a comment (though my blog still counts as long as you've commented on a different post).  The posts that you're commenting on need to have been written in February 2010 (only entries with a link to a post written in that time frame count.  You can't list older-than-that posts).
Unlike other years, you can enter as many times as you like.  Which means the more you comment around the blogosphere, the more chance you have to win.  Only comments that talk about a post you read elsewhere in the blogosphere have a chance at winning (in other words, if you write below, "that looks delicious!" I'll be appreciative, but you won't be eligible to win.  You need to list a place where you commented today, give the url for the post, and say something about the post).
Each comment counts as one entry, so if you've commented in three places, you're allowed to leave that in three entries here.  Leaving it in separate comments is actually sort of an important fact because too many links in a comment will make it caught by the spam filter.  I can release comments caught by the spam filter, if…you know…I have Internet and electricity during the storm.
The giveaway ends at 8 a.m. EST on Friday the 12th, therefore, you can return during the week and list new, great blog posts you found. 

If you're still confused, think of this as creating a Friday Blog Roundup-type list in the comment section

, one comment at a time

.
I will also love you forever if you read down the list and click over to read the other posts listed in the comment section.  And don't just hit the first ones at the top of the comment list. Make sure you hit some of the people in the middle or bottom of the list and leave them a comment telling them that you agree with the original commentor–their writing does rock.
If someone writes something nice about a post you wrote this week, bask in the love.  Oh, and here's a good impetus to go write something amazing on your own blog this week so people can come and comment on it over here and win the basket.
My usual blog rules apply: any spam is deleted–the point is to honour another person, not drum up business for a Viagra website–as well as anything rude.
I'll use the random number generator and announce it hopefully on Friday provided we have power.  See, it's that little issue of power loss that keeps returning in my mind.
*******
If we do lose power, you will know by reading here.  And then you'll know why I'm not answering emails, putting up the LFCA, or doing anything more than shivering and cursing.