The 92nd Circle Time: The Show and Tell Weekly Thread
Show and Tell is wasted on elementary schoolers. Join several dozen bloggers weekly to show off an item, tell a story, and get the attention of the class. In other words, this is Show and Tell 2.0. Everyone is welcome to join, even if you have never posted before and just found out about Show and Tell for the first time today. So yank out a photo of the worst bridesmaid's dress you ever wore and tell us the story; show off the homemade soup you cooked last night; or tell us all about the scarf you made for your first knitting project. Details on how to participate are located at the bottom of this post.
Let's begin.
Yesterday, I went to buy material for the ChickieNob and Wolvog's Purim costumes.  Josh and I picked their costumes until they were two and we went with ideas that go together.  One year, they were Jif peanut butter and a Hershey bar.  The next year, they were fish aquariums that had the twin fin-fin fish from Lucy Cousin's Hooray for Fish.  When they were two, they wanted to be Mordechai and Queen Esther.  And then the symmetry fell off the cliff.
The next year, the ChickieNob designed a gown with me, a two-toned pink number with a long train that could be bustled as she ran around the playground.  She announced that she would be Queen Esther until she was 100 years old and so far, she has been true to that vision.  The Wolvog said he wanted to be an iPhone.  I tried to see a way these two costumes could go together.  Was he the Queen's iPhone, and was there a way to put that little boy in a holster and stick him to his sister's hip?  No?  He was going to be a walking, talking iPhone.  So be it.
Last year, they wanted to wear those same costumes again, but this year, it was time to design new ones.  The ChickieNob and I sat down at the kitchen table and spent 45 minutes designing a turquoise, floor-length gown, a slip dress with enormous sleeves and paste diamonds sewn into the bodice.  A taffeta open overskirt with pleats to make it extend as far as possible from the body.  A headdress fit for a Middle Eastern princess.  And what do you want to be, Wolvog?
He barely looked up from whatever he was doing and grunted one word, "Yoda."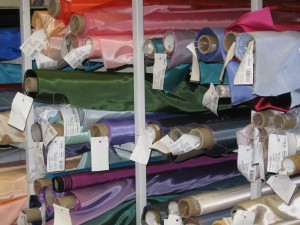 I went to the store and bought yards of turquoise material, spent the better part of an hour feeling different taffetas and organzas.  The saleswoman delighted in debating out the pros and cons of each fabric, coveting with me the gorgeous turquoise beaded silk that sold for $129 a yard.  After she had painstakingly cut out the different exquisite fabrics that made up the ChickieNob's costume, she asked, "anything else?"
Um…a yard and a half of the most Yoda-looking brown polar fleece please?
I swear we didn't aim to raise gender stereotypes.
What are you showing today?
Click here or scroll down to the bottom of this post if this is your first time joining along (Important: link to the permalink for the post, not the main url for your blog and use your blog's name, not your name. Links not going to a Show and Tell post will be deleted). The list is open from now until late Friday night and a new one is posted every week.
Other People Standing at the Head of the Class:
Want to bring something to Show and Tell?
If you would like to join circle time and show something to the class, simply post each Wednesday night (or any time between Wednesday morning and Friday night), hopefully including a picture if possible, and telling us about your item. It can be anything–a photo from a trip, a picture of the dress you bought this week, a random image from an old yearbook showing a person you miss. It doesn't need to contain a picture if you can't get a picture–you can simply tell a story about a single item.

The list opens every Wednesday night and closes on Friday night

.
You must mention Show and Tell and include a link back to this post in your post so people can find the rest of the class. This spreads new readership around through the list.

This is now required

.
Label your post "Show and Tell" each week and then come back here and add the permalink for the post via the Mr. Linky feature (not your blog's main url–use the permalink for your specific Show and Tell post).
Oh, and then the point is that you click through all of your classmates and see what they are showing this week. And everyone loves a good "ooooh" and "aaaah" and to be queen (or king) of the playground for five minutes so leave them a comment if you can.
Did you post a link and now it's missing?

: I reserve the right to delete any links that are not leading to a Show and Tell post or are the blogging equivalent of a spitball.