The 90th Circle Time: The Show and Tell Weekly Thread
Show and Tell is wasted on elementary schoolers. Join several dozen bloggers weekly to show off an item, tell a story, and get the attention of the class. In other words, this is Show and Tell 2.0. Everyone is welcome to join, even if you have never posted before and just found out about Show and Tell for the first time today. So yank out a photo of the worst bridesmaid's dress you ever wore and tell us the story; show off the homemade soup you cooked last night; or tell us all about the scarf you made for your first knitting project. Details on how to participate are located at the bottom of this post.
Let's begin.
Tomorrow is Josh and my ten year dating anniversary (we have an utterly fantastic how-we-met story, but that is fodder for a different post).  We went out for sushi.  A few days earlier, the skies had dumped an inordinate amount of snow (hmmm…feeling familiar this week) on Washington and there were huge greying snow piles outside.
He picked me up at my apartment building.  I wore swingy black pants, a white shirt, and a periwinkle sweater (remember how in periwinkle was ten years ago?  What happened to that colour?) with black, high-heeled mary janes.  I had my hair down.
We went out for sushi because of a joke from when we set up the date a week beforehand.  I ordered kappa maki.  He convinced me to try the gourd rolls.  He never asked me to order gourd rolls again.  He drank a lot of green tea and ended up needing to pee four or five times during the meal.  I thought he might have a bladder problem.  Every time he left, I checked my reflection in my silverware to make sure I didn't have seaweed between my teeth.
I liked him so much.
We talked a lot about Ireland.  He had been years earlier.  I had a ticket and was set to leave in a few weeks.  They had to close the restaurant, so we walked down the street to a bookstore and wandered around for a bit.  We really didn't want the date to end.  I would have invited him up to my apartment but the super had been doing work in my apartment and every dish I owned was on my living room floor.
We stopped on the sidewalk outside my apartment building where crazy Alice was waiting behind the front desk.  He pushed my hair off my face with his left hand, slowly cupped my cheek, and kissed me for the longest time.  He told me that he was going to drive home smiling.
I went upstairs and called my mother and my best friend and told them both that I had met the man I would marry.
And I did.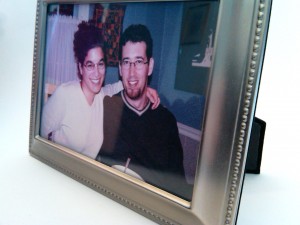 What are you showing today?
Click here or scroll down to the bottom of this post if this is your first time joining along (Important: link to the permalink for the post, not the main url for your blog and use your blog's name, not your name. Links not going to a Show and Tell post will be deleted). The list is open from now until late Friday night and a new one is posted every week.
Other People Standing at the Head of the Class:
Want to bring something to Show and Tell?
If you would like to join circle time and show something to the class, simply post each Wednesday night (or any time between Wednesday morning and Friday night), hopefully including a picture if possible, and telling us about your item. It can be anything–a photo from a trip, a picture of the dress you bought this week, a random image from an old yearbook showing a person you miss. It doesn't need to contain a picture if you can't get a picture–you can simply tell a story about a single item.

The list opens every Wednesday night and closes on Friday night

.
You must mention Show and Tell and include a link back to this post in your post so people can find the rest of the class. This spreads new readership around through the list.

This is now required

.
Label your post "Show and Tell" each week and then come back here and add the permalink for the post via the Mr. Linky feature (not your blog's main url–use the permalink for your specific Show and Tell post).
Oh, and then the point is that you click through all of your classmates and see what they are showing this week. And everyone loves a good "ooooh" and "aaaah" and to be queen (or king) of the playground for five minutes so leave them a comment if you can.
Did you post a link and now it's missing?

: I reserve the right to delete any links that are not leading to a Show and Tell post or are the blogging equivalent of a spitball.