A Hard Snow's a-Gonna Fall: Dispatches from Snowmageddon Part One (the Prequel)
Snowpocalypse 2010, for us, started with a naked Yoda.
*******
Actually, it started with the first few flakes blinking through the sky as I picked the twins up at school.  I had dropped them off with the reminder that if the snow started falling in earnest before school was over, I was going to come to school and get them early and they were to come into the hallway without a fuss.  But the snow had held off until right before it was time to leave, regardless of the fact that I had been dreamily staring out the window for the prior hour.
While peeing and reading a magazine (multitasking!), I found a recipe for scones.  Scones?  I've never even liked scones but suddenly I needed to have scones.  And that pretty much sums up the feeling that Snowpocalyse has brought out in me.  Stock up on 24 eggs just in case the only thing I feel like eating is eggs?  Makes sense.  Buy two extra bottles of Delsym just in case someone in the house develops a cough?  Why not.
Our house is full of ingredients and art supplies and cleaning supplies yet my brain can only focus on what is not here.  And whatever is not here is what my heart fills with a longing to have.  I was suddenly consumed with the idea of making veggie broth except having not planned for this idea, lacked the necessary celery.  It seemed worth lying down on the kitchen floor and moaning about it.  "Nooooooooooooooo celery.  And we'll be snowed in for weeks.  And all I want is soup."
"So make something else," Josh said unhelpfully.  "Make a baked potato for dinner."
"I would sooner eat that dough-splattered sponge in the sink," I told him.
"But you told me you wanted to make baked potatoes this weekend," he pointed out.  "You bought all the ingredients to make loaded baked potatoes for dinner."
But that was then and this is now.  And now, we're snowed-in.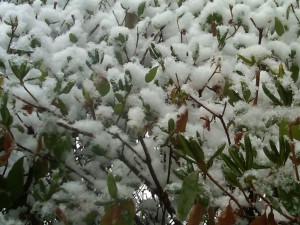 *******
I bought the ChickieNob and Wolvog sketch pads from the art store.  I got a new set of coloured pencils, markers, and blank puzzles.  I set up the ChickieNob in the kitchen with me as I attempted to make scones despite not having some key ingredients such as heavy cream.
She was delighted with the idea of all her pictures remaining in one place.  She started out with her usual princesses and ballet dancers and then branched out into new territory.  She drew a Spectro-man from Disney's Spectromagic parade, the mask inexplicably glowing red ("a reflection," she answered mysteriously.  Of what?  A sea of blood?  A wall of flames?).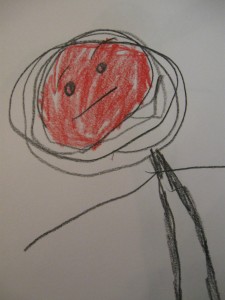 She drew a rather dour Luke Skywalker towering over the ChickieNob and her brother.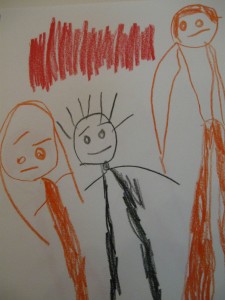 And she drew a naked Yoda.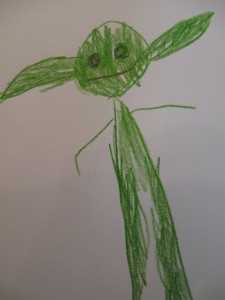 "Why do you suppose he's naked?" the ChickieNob asked me.
"I don't know.  You drew him.  Why did you draw him naked?" I asked back.
"He just crawled out of the swamp this way.  I think it's so interesting that he doesn't have any clothes on.  I just like looking at him like this."
And so the family stared at the naked Yoda and the snow continued to come down.
*******
Scones made without heavy cream, it turns out, don't really taste like scones at all.
*******
I'm not sure what draw the snow has over rationality.  On any normal Friday afternoon, I'd be home regardless.  I'd be making the challah and reading a book with the twins and coming up with plans to convince Josh that we really need a guinea pig and enlisting the twins in said plan.  On a normal Friday in the winter, it would be clear outside, but we wouldn't go anywhere.
And yet the snow on the ground outside threw my routine into chaos.  Make dinner?  How the hell was I supposed to make dinner with snow outside?  What did you say–make dinner with the ingredients in the refrigerator and pantry?  For the love of G-d, who do you think I am?  Wonder Woman?  Do you really think I have the mental capacity to release my mind from thinking about the snow in order to consider how many eggs go into making a pot of matzo ball soup?
But there's also something about snow that brings out the pioneering spirit, the chalutzim that lays dormant inside of us, just waiting to be challenged by the idea of making veggie stock sans celery.  I pulled together this and that, a carrot and onion and the parsley I had the forethought to purchase even though I never expected to want matzo ball soup during this storm.
And in the end, we had a snow feast.  Which is something that can only happen when you have a sea of time and nowhere to go.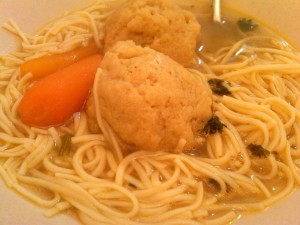 *******
For someone who has lived through quite a few huge storms, the latest of which was under two months ago, I am uncharacteristically nervous about this one and I don't know why.  We barely have accumulation right now; the majority of the storm will fall overnight.  And maybe that's it–the storm in the dark, the waking hours with the world outside changed.
I was gleeful when I first heard about the storm, excited as I stocked up on supplies and books.  But by this morning, a knot had formed in the pit of my stomach and I'm going through the evening feeling edgy.  The storm has already begun so it isn't the anticipation of it anymore.  It's just the unknowns that lurk in the dark.
Another dispatch tomorrow.