The 89th Circle Time: The Show and Tell Weekly Thread
Show and Tell is wasted on elementary schoolers. Join several dozen bloggers weekly to show off an item, tell a story, and get the attention of the class. In other words, this is Show and Tell 2.0. Everyone is welcome to join, even if you have never posted before and just found out about Show and Tell for the first time today. So yank out a photo of the worst bridesmaid's dress you ever wore and tell us the story; show off the homemade soup you cooked last night; or tell us all about the scarf you made for your first knitting project. Details on how to participate are located at the bottom of this post.
Let's begin.
On Monday, I was supposed to get my guitar restrung, though ended up with only one replaced string, which is a long story that you will be subjected to in a moment.  The reason this fact is important is that the guitar still sounds like shit and Josh has offered to pay me not to play it.  He gave me a massage one night in exchange for a promise that I would leave it in the case.  This is a beautiful thing.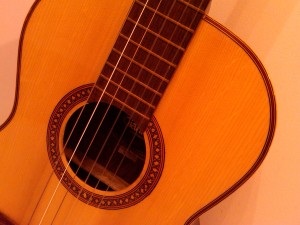 I have not played the guitar since the twins were babies and I instituted the game "band camp" which meant we sat on the living room floor and I played the same three chords over and over again and they banged on their Fisher Price instruments and I recorded it and would play it for Josh every night, asking him, "do you think we have a chance at establishing a family band?  Like the Jonas Brothers or the Von Trapps?"  See, even back then I knew how to create a little piece of torture.
The best part is that because it hasn't been played in years, the twins have pretty much forgotten about the guitar.  I gave them a little reminder on Tuesday night.  They were up talking after bedtime, so I crept upstairs with the guitar, bumped the door open with my hip, and started serenading them with an impromptu song about how they're in deep shit for not going to bed.   The Wolvog informed me that I had scared him with my earnest opening G-chord, but since I was up there anyway, could he try the guitar?  Band camp has been resurrected.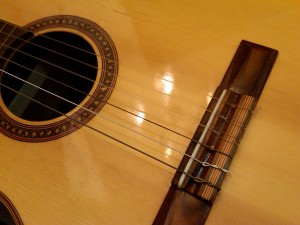 I'm not ashamed to admit this–I don't know how to string a classical guitar.  I'm also not ashamed to admit this–some of my strings are 25 years old.  I have one string that is massively corroded and set to snap at any moment.  But what can I do?  I have an unnatural attachment to these original guitar strings and no desire to learn a new skill.  Actually, I would love to learn if someone wanted to teach me.  I don't want to learn off of YouTube, which is what the woman in the store suggested.
She was unwilling to restring my guitar unless I was willing to leave it there overnight (even though, I might add, the store was empty the half hour we debated this, the phone didn't ring once, and it took her under three minutes to change the string she did change despite the fact that she told me it would take forever to change all six strings.  Apparently, forever is currently equal to 18 minutes).  As she replaced the one string, she suggested that I learn how to take care of my guitar and told me that I have no business owning this guitar unless I do.
I know Riotgrrl was trying to get me to grow a pair of ovaries (perhaps ones that work!) by giving me a tough love speech about wo-manning up and becoming self-sufficient.  But I didn't want tough love.  I didn't want love at all.  I just wanted my guitar restrung so I could play my way through Rise Up Singing.  And since Josh wouldn't buy me this at O'Hurley's General Store in Shepherdstown last weekend, I have no choice but to use the guitar.  Corroded strings and all.
Which is just a long way of saying–does anyone want to buy me a lap harp or teach me how to string my guitar?
What are you showing today?
Click here or scroll down to the bottom of this post if this is your first time joining along (Important: link to the permalink for the post, not the main url for your blog and use your blog's name, not your name. Links not going to a Show and Tell post will be deleted). The list is open from now until late Friday night and a new one is posted every week.
Other People Standing at the Head of the Class:
Want to bring something to Show and Tell?
If you would like to join circle time and show something to the class, simply post each Wednesday night (or any time between Wednesday morning and Friday night), hopefully including a picture if possible, and telling us about your item. It can be anything–a photo from a trip, a picture of the dress you bought this week, a random image from an old yearbook showing a person you miss. It doesn't need to contain a picture if you can't get a picture–you can simply tell a story about a single item.

The list opens every Wednesday night and closes on Friday night

.
You must mention Show and Tell and include a link back to this post in your post so people can find the rest of the class. This spreads new readership around through the list.

This is now required

.
Label your post "Show and Tell" each week and then come back here and add the permalink for the post via the Mr. Linky feature (not your blog's main url–use the permalink for your specific Show and Tell post).
Oh, and then the point is that you click through all of your classmates and see what they are showing this week. And everyone loves a good "ooooh" and "aaaah" and to be queen (or king) of the playground for five minutes so leave them a comment if you can.
Did you post a link and now it's missing?

: I reserve the right to delete any links that are not leading to a Show and Tell post or are the blogging equivalent of a spitball.