The 87th Circle Time: The Show and Tell Weekly Thread
Show and Tell is wasted on elementary schoolers. Join several dozen bloggers weekly to show off an item, tell a story, and get the attention of the class. In other words, this is Show and Tell 2.0. Everyone is welcome to join, even if you have never posted before and just found out about Show and Tell for the first time today. So yank out a photo of the worst bridesmaid's dress you ever wore and tell us the story; show off the homemade soup you cooked last night; or tell us all about the scarf you made for your first knitting project. Details on how to participate are located at the bottom of this post.
Let's begin.
I had oral surgery yesterday and survived.  I was going to photograph my revolting mouth, but decided against it in case anyone is eating while reading this.  So you get this fun site which I shamelessly stole from Julie instead.
At formspring.me, you can set up a program that collects questions and then posts your answers.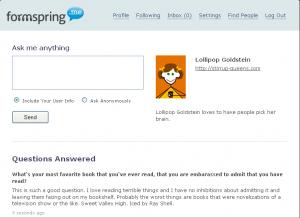 I think what is most interesting (to me, at least, since I don't know if I actually have anything interesting to say) is what is asked by the sheer fact that it's anonymous.
The problem is that even though I have checked a box asking for the program to notify me when I have a question, it doesn't.  Therefore, it becomes one more place to check and frankly, the last thing I need on the Web is one more place to check.  So I'm not sure how long this space will last, unlike my beloved Posterous spot where I am still posting several times a week, especially whenever I'm with other ALI bloggers and we are talking about chicken sex.
So, in honour of my new Formspring site, either ask me a question there.  Or, if you're feeling infinitely braver about standing behind your question, ask it in the comment section below.  And I may even answer it.

What are you showing today?
Click here or scroll down to the bottom of this post if this is your first time joining along (Important: link to the permalink for the post, not the main url for your blog and use your blog's name, not your name. Links not going to a Show and Tell post will be deleted). The list is open from now until late Friday night and a new one is posted every week.
Other People Standing at the Head of the Class:
Want to bring something to Show and Tell?
If you would like to join circle time and show something to the class, simply post each Wednesday night (or any time between Wednesday morning and Friday night), hopefully including a picture if possible, and telling us about your item. It can be anything–a photo from a trip, a picture of the dress you bought this week, a random image from an old yearbook showing a person you miss. It doesn't need to contain a picture if you can't get a picture–you can simply tell a story about a single item.

The list opens every Wednesday night and closes on Friday night

.
You must mention Show and Tell and include a link back to this post in your post so people can find the rest of the class. This spreads new readership around through the list.

This is now required

.
Label your post "Show and Tell" each week and then come back here and add the permalink for the post via the Mr. Linky feature (not your blog's main url–use the permalink for your specific Show and Tell post).
Oh, and then the point is that you click through all of your classmates and see what they are showing this week. And everyone loves a good "ooooh" and "aaaah" and to be queen (or king) of the playground for five minutes so leave them a comment if you can.
Did you post a link and now it's missing?

: I reserve the right to delete any links that are not leading to a Show and Tell post or are the blogging equivalent of a spitball.