Delurkify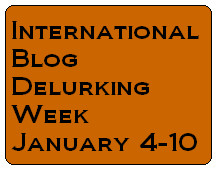 The first full week of January has traditionally been International Delurking Week and since I usually forget until sometime towards the end of the month and then curse myself and try to catch up and have no one delurk because delurking was sooooooo two weeks ago, I am quite pleased with myself for remembering early.
So happy International Blog Delurking Week and in honour of this worldwide holiday, please delurk because there is a huge discrepancy between the number of readers in actuality and the number of readers I actually know are reading.  Or a tongue-twister like that.
It is fairly easy.  Leave a comment in the comment section below admitting that you're here.  You can simply raise your hand and meekly admit that you're here with a simple, one-word "here" comment; or you can proudly raise your hand and tell us all a bit about yourself (my preferred method); or you can tell me what sort of ice cream flavour you'd be if you were a lump of ice cream (see, I'm trying to make it easy for you by even providing a comment prompt).  The point is that I want to know about the people who read me.
And not to make y'all feel guilty, but I'm trucking through writing 200+ Creme de la Creme blurbs so you certainly know that I have been on your blog.  Now it's your turn to tell me that you've been on mine.
Did the guilt trip work?