A Call for Secret Odes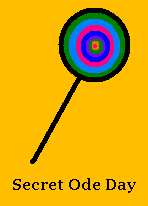 Dear Mrs. Spit pointed out that it had been a long time since the last Secret Ode Day and it has–nearing on two years.  But since it is the embodiment of my kumbayaness and because I think we could all use it right now, I am hearby resurrecting the Secret Ode Project and doing a call for Odes for the 4th Secret Ode Day.
Oh, wait, you're new and you don't know what it is?  Well, basically, I had this neighbour growing up whose parents had a floating family holiday where they decorated this tree outside the house with lollipops in the middle of the night and part of the day was to invite all the kids in the neighbourhood to harvest them.  You never knew when the day would happen, so every child woke up each morning and ran to the window to see if the tree was decorated.  And the lollipops were that much better because they were unexpected.
A Secret Ode Day follows the same idea: odes are collected (see below) and compiled and posted here on a day when you least expect it.  And then you get to see an anonymously written note about how wonderful you or your blog is when you wake up one morning.
Oh wait, that's the other part.  People simply don't tell other people nice things nearly enough. We save our best words to say when the person can't hear–I'm not just talking about after the person is gone, but how we tell good stories about others or think kind thoughts about another person, and they never know. Therefore, here is a chance to anonymously let a fellow blogger in the community hear how much their words and actions mean to you.  If you want a sense of the types of statements people submit, read through past secret ode days.
How to submit:
Fill out this form: Secret Ode Day Form.  You may submit as many blogs as you like, but fill out the form anew for each individual blog.
You can submit a blog that has already been blurbed in a past Secret Ode Day, but try to spread the love.
I ask for your email address only to have a way to ask a question before I post if I have one; all blurbs are posted anonymously AND I will never reveal the identity of the blurber no matter how much the person begs.
Whenever I have a critical mass of blurbs, I will post them on a random day.  You wake up to the lollipop icon and the possibility of kind words said about your blog.
This is on-going: whenever a new critical mass of blurbs comes in, a new Secret Ode Day goes up.
The beauty of Secret Ode Day is that just because your blog doesn't show up in one post doesn't mean that there won't be a paragraph about it during the next post. It's just always a surprise–sort of like waking up in the morning and finding the trees decorated with lollipops.