Ungaming and Comment Chaining Part 4
Directions: answer the question in the comment section.  Then leave a comment on the blog of the commenter directly before you (so it's a chain.  #2 comments on #1, #3 comments on #2, etc).  The first person who comments gets a free ride and does not need to leave any comments.  The last person who comments gets…screwed.  My answer is below the picture.
Interpret this question broadly–trophy can be any type of award from a Pulitzer to the Nobel Prize to an Olympic gold medal.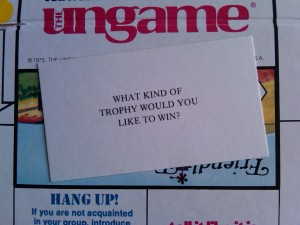 In case you can't read it, the card states: WHAT KIND OF TROPHY WOULD YOU LIKE TO WIN.
I have always wanted to win an Olympic gold medal and stand on the podium and have them lower the American flag over my head and have everyone sing the National Anthem.  During the 2002 Olympics, I was so sad watching the athletes and knowing I would never achieve this.  But I won't be sad this year when the Olympics roll around again.  The reason will be this week's Show and Tell.