The Chanukkah Grinch
I'm not a big fan of Chanukkah.  And by "not a big fan" I mean that I like it about as much as I like Valentine's Day.  Which is not at all unless you count the candy and then it's like a 2 on a scale of 1–10.
Here's the fact about Chanukkah–it's sort of the religious equivalent to Veterans Day (in fact, it is a war memorial holiday) and it has been elevated to the level of Christmas by both the retail industry and well-meaning people who feel badly that Jews don't really have a cool holiday like Christmas in the winter.
I don't feel badly about that fact at all.  I love Christmas and I don't mind if Christmas has a monopoly on winter.  Purim–in my world–has a monopoly on the dreary post-winter/pre-spring season and I would be all kinds of cranky if people started elevating some random Catholic feast day to the level of Purim and telling me that it was sort of the same thing.
There are Jewish holidays that I love.  Purim is and will always be #1 in my heart.  Succot and Pesach tie for a close second.  Rosh HaShanah and Simchat Torah tied for third.  But Chanukkah is sort of right below Yom Kippur.  I get more out of atoning for my sins (of which there are many) than lighting the chanukkiah.  I am just not a fan of fried foods–either eating them or smelling them.  The only way they could make this holiday worse for me is if they added mayonnaise and crickets to the mix.
BUT.
Last night, we had over my parents and Lindsay and her family and we got to witness V light the chanukkiah for the first time.  He looked slightly confused and distracted between all of the adults cooing at him and snapping pictures while we sang in a weird language and held lit candles near him.  And he cracked us all up with his tricks with the stuffing over blessing the grape juice during Shabbat.  But getting that time with friends and family, everyone hanging out and eating and talking, getting to witness a little boy taking in a ritual that spans backs centuries and centuries–that melted my little Chanukkah Grinch heart.
The ChickieNob and Wolvog started the melting process on us years ago when we got to witness their first reaction to lighting the chanukkiah and V chipped off the ice a little deeper.  Give me a few more years of good friends and family hanging out in our kitchen and you may one day read a post about how Chanukkah has jumped up in popularity to occupy the third tier of my heart.
Today, I got to meet Addition Problems and Cali.  Look at us–I am seriously the height of a Smurf.  I got to start feeding W a bottle and Lindsay got to finish.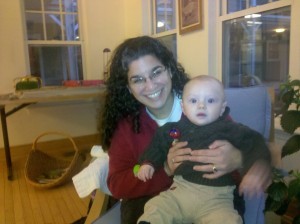 So that was all kinds of magical as well to finally get to meet Cali and hold W–who have been on the other end of a telephone line or computer screen for the last three+ years.
Tomorrow, I will be at Leah's, eating cookies and downing Ruby Sippers.  I'll do the dirty work for all of us and beat her senseless for not posting since September.  A large chunk of the DC IF blogging contingency will be there and I will be live blogging it at this space starting around noon.
People who will most likely be there: Blogless Paz, Hoping for Another Lovebug, Chez Perky, Two Hot Mamas (later in the party maybe), Tales from My Dusty Ovaries, Our Family Beginnings, Body Diaries by Lucy, A Little Sweetness, Sell Crazy Someplace Else, Sunny with a Chance of Hope, and Me.
I will have email access while I'm there so if you want me to ask anyone a question, turn the video camera on them (as long as they are willing), or get a photo with them, send me an email between noon and 3ish with "party" in the subject line so I open it immediately.  Party posts will appear sometimes over here and sometimes right here on Stirrup Queens.
Happy Chanukkah if you're eating latkes tonight.