The 84th Circle Time: The Show and Tell Weekly Thread
Show and Tell is wasted on elementary schoolers. Join several dozen bloggers weekly to show off an item, tell a story, and get the attention of the class. In other words, this is Show and Tell 2.0. Everyone is welcome to join, even if you have never posted before and just found out about Show and Tell for the first time today. So yank out a photo of the worst bridesmaid's dress you ever wore and tell us the story; show off the homemade soup you cooked last night; or tell us all about the scarf you made for your first knitting project. Details on how to participate are located at the bottom of this post.
Let's begin.
We got our own Wii as a Chanukkah gift from Josh's parents which meant that not only could we finally return Lindsay's Wii (thank you, Lindsay!), but we could also make our own Miis.  Er…which is to say "me" in Wii-language.  Your Mii is the little electronic version of you on the screen that you see replicating the movements you're making in real life.  So if I jog in place, my Mii moves on the screen.
After we made everyone in our family, we made two additional Miis for others to use when they come over.  They are fraternal boy-girl twins, 35-years in age, named Pru and Henry.
I think I might be falling in love with them.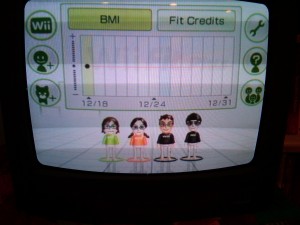 We've begun constructing a very detailed history of their lives as a family.  The four of us talk about them as if they're real people that we know, chuckling about a funny thing we pretend Henry said that day (oh that Henry!) or wondering what Pru is having for lunch.  The Wolvog announced yesterday, apropos of nothing, that Henry has gotten a dog named "Arf Arf Nigel" after the John Lennon poem.  And now we have constructed a fictional life for his dog as well.
Prudence is on the far left.  She has been trying to have a child with her wife for the last two years.  They're currently gearing up for another round of IVF–this time using Pru's egg and her wife's womb.  She is a librarian and works exclusively with electronic sources.  She speaks Italian–not very well, but enough to get around Italy.  She spent a semester in Florence back in college and went back to Italy between college and graduate school to live in Rome.  She has a tattoo, but you can't see it when she has her clothes on.
Henry is still trying to find himself.  He's on the far right.  Huge heart–so giving and loving and thoughtful, but also so irresponsible.  He thought he wanted to be an environmental educator in Costa Rica, but then he realized it was just taking douchebag tourists around and he was fired for showing up to work stoned (oh that Henry!).  He just makes poor choices, though his heart is always in the right place.  As Josh says, "he's sweet, but dumb."  He has a sleep disorder and Pru is worried about him, but she already has a lot on her plate.
They come on the screen, even when they're not in use.  When I'm jogging around the island, I'll pass them running in the opposite direction.  They show up to cheer me on when I'm bicycling.  Aren't you smitten with them too?
I have started a site that records my daily workout in case anyone else wants to make the commitment to lose weight in the new year using the Wii Fit.  The site is called The Shrinking Ass and it refers not only to my derriere, but to my ass-y-ness in general.  I will be posting the on-going sagas of Pru and Henry in that space as well as my daily workout and calories burned.
If you are also making the commitment to lose weight and keeping a similar online journal, let me know and I'll add you to the sidebar so we can have a supportive web-ring for everyone working out and we can trade routines.

What are you showing today?
Click here or scroll down to the bottom of this post if this is your first time joining along (Important: link to the permalink for the post, not the main url for your blog and use your blog's name, not your name. Links not going to a Show and Tell post will be deleted). The list is open from now until late Friday night and a new one is posted every week.
Other People Standing at the Head of the Class:
Want to bring something to Show and Tell?
If you would like to join circle time and show something to the class, simply post each Wednesday night (or any time between Wednesday morning and Friday night), hopefully including a picture if possible, and telling us about your item. It can be anything–a photo from a trip, a picture of the dress you bought this week, a random image from an old yearbook showing a person you miss. It doesn't need to contain a picture if you can't get a picture–you can simply tell a story about a single item.

The list opens every Wednesday night and closes on Friday night

.
You must mention Show and Tell and include a link back to this post in your post so people can find the rest of the class. This spreads new readership around through the list.

This is now required

.
Label your post "Show and Tell" each week and then come back here and add the permalink for the post via the Mr. Linky feature (not your blog's main url–use the permalink for your specific Show and Tell post).
Oh, and then the point is that you click through all of your classmates and see what they are showing this week. And everyone loves a good "ooooh" and "aaaah" and to be queen (or king) of the playground for five minutes so leave them a comment if you can.
Did you post a link and now it's missing?

: I reserve the right to delete any links that are not leading to a Show and Tell post or are the blogging equivalent of a spitball.